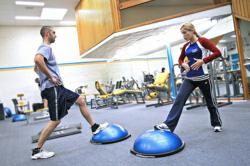 Scottsdale, AZ (PRWEB) March 23, 2013
March is National Nutrition Month. To celebrate healthy lifestyles, Appointment-Plus, the leading provider of scheduling software, would like to interview personal trainers who have a knack for social media.
"We are looking for personal trainers who are using social media in creative ways," said Eric Richard, Senior Public Relations Specialist at Appointment-Plus. "As of December 2012, there were over 13 million business pages on Facebook alone, illustrating the growing importance social media plays at businesses worldwide.
"Personal trainers are an innovative bunch, and I'm quite sure a few of them have found out how to let their clients know about the importance of nutrition and fitness."
Appointment-Plus is looking for personal trainers who:

Regularly send clients nutrition tips through Facebook or Twitter.
Use Constant Contact or iContact to send fitness tips and reminders to clients.
Have been a 24 Hour Fitness personal trainer for at least six months.
Personal trainers interested in contributing to the feature articles can contact Appointment-Plus at 480-483-1199, ext. 131.
##
About Appointment-Plus: Since 2001, Appointment-Plus has helped fitness and health clubs reduce no-shows and manage multiple appointments per time slot. Appointment-Plus' Scheduling Cloud™ API gives franchise owners the ability to build custom online applications that allow clients to self-book and seamlessly integrate with Microsoft, Google and QuickBooks. Learn more about Appointment-Plus personal trainer software.