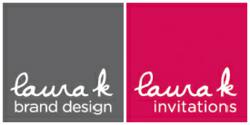 I take the same approach when designing a logo or wedding invitation, however, I felt a need to distinguish between the services I offer as they target a different market
Toronto, ON (PRWEB) March 26, 2013
Canadian-based graphic design firm, Laura K Design, is proud to announce the incorporation of their brand into two subsidiaries - Laura K Invitations and Laura K Brand Design. The purpose of this move is to establish a distinction between the firm's services, and to establish an identity for each. Although the company has provided brand design and custom wedding invitations for years, 2013 marks an important year since they look forward to reaping the rewards of increased sales and brand awareness by means of their re-branding efforts.
The Laura K Invitations division focuses on the creation of stationery items for weddings, corporate events, private parties, and other occasions for clients who desire custom design invitations. This includes a variety of items, such as invitations, reply cards, thank you cards, direction cards, and gift tags. Aside from these basic offerings, the firm frequently creates designs for their diverse clientele, many of whom speak foreign languages and are of Italian, German, French, and Chinese descent. Laura K continues to collaborate and work with these individuals to produce a multitude of stationery items.
The division also recently began offering couples all-in-one wedding stationery packages, so the prices of stationery items come at a reduced price for those looking to limit their expenses. The all-in-one packages often include additional pieces such as blank place cards and maps. The Laura K Invitations division also plans to place more emphasis on personal and private events, in order to build a strong repertoire with clients who are seeking custom invitation designs to enhance the experience.
The second subsidiary, Laura K Brand Design, is the other newly incorporated brand division under Laura K that continues to provide design services for entrepreneurs, small-business owners, and online retailers. The services provided under this division include logo design, print collateral, and website design. Laura K Brand Design focuses on providing creative solutions which reflect the image and identity of the businesses they collaborate with.
The decision to incorporate these two divisions comes from the company's objective to cater to its customers more directly. The distinction between the invitations and branding markets is strong, and the needs of both have to be recognized and addressed differently. As a result, Laura K Design re-launched themselves as a dual-branded company in order to directly meet the demands of their clients.
"I take the same approach when designing a logo or wedding invitation, however, I felt a need to distinguish between the services I offer as they target a different market." says Laura K when asked about the differences between the two markets. "An invitation has a different purpose than a business card or a website, but at the end of the day, they're both supposed to be unique and reflect the style of the people or business. Regardless of what my clients need me to design, service will always be my number one priority."
Laura K aims to expand its reach and clientele by taking this approach when dealing with clients and their stationery needs.
About Laura K:
Laura K is an award-winning Canadian design firm that specializes in the design of stationery elements, such as event invitations, wedding invitations and print/web collateral for businesses. The company is based in Toronto, Ontario and they have provided their clients with unique and creative solutions for nearly a decade.
Laura K is known for their eclectic designs, which include vibrant use of colour and an overall modern aesthetic. They have created designs for a wide range of clients, and their work has been featured in various media, including Brides.com, Style Me Pretty, Toronto Life Weddings, and Wedding Bells.