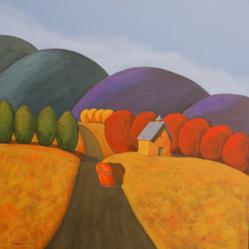 Scottsdale, AZ (PRWEB) March 22, 2013
Robert Burt: There is a sense of tranquility that resonates from Burt's paintings, transporting the viewer into his world. Robert Burt's paintings feature strong color compositions, portray the landscapes and architecture around, and reduce the scene to it's most elemental and powerful components. With diverse subjects, his pieces of school house buildings with rolling hills, emulate with artistic energy, curvy lines and pleasing shapes, entertaining the eye and mind.
Drama and serenity - these two words may seem at odds with one another, yet both aptly describe the uncommon work of Robert Burt. He is a dynamic artist who has made such an impact as he moved from medium to medium, always deepening his technique and his talent, always expressing his sense of wonder and love for the world he observes and describes in his paintings.
Burt began his love of art in New York, traveling to the City to study art work in the galleries. He moved quickly to classes at the Art Student's League in Woodstock, working with batiks. Soon he had his own galleries in New York and North Carolina.
Today, Burt's acrylic works, bring to life the nonchalant and yet colorfully vivid peace of the New Mexico countryside, as well as, many other countries, that he has traveled to and been influenced by. They invite the viewer to partake of the gentle world that lies beyond the city - a more natural world where you can hear the gentle buzz of cicadas, feel the soft rays of the sun, and smell the earthy aroma of adobe. While the colors reflect the strong vibrancy of sun-drenched lands and village life, the subjects themselves are reflective of a world that has stood the test of time, beyond the hustle and bustle of modern life. 
To see more of Robert's work visit him in studio 18-19 or online at
http://bit.ly/104g5XV
Lara Moore: Walking into Moore's studio at the Arizona Fine Art Expo there is a sense of freshness and tranquility. She makes furniture, mirrors, wall art, counter tops, back splashes and custom home furnishings, with a signature design that embraces a sense of happiness.
Moore's process starts with a wooden form, then she attaches hundreds of layers of tissue paper, gluing each thin, sheer piece down individually. Each design element is hand cut from the tissue paper and every blade of grass, each flower blossom and spiral is cut with scissors to create an original design.
Every piece is finished with many coats of glossy resin. The resin reacts with the paper and a special glue to offer a rich, velvety textured color for the eye, and a hard functional glass-like feel for the hand.
"Almost everyone wants to know what inspires me to create my work" explains Moore, "When I say I'm constantly looking at things and thinking of how I can mimic the color or the pattern, I mean it. Sometimes I nearly drive off the road trying to capture the texture of a building or the pattern on someone's shirt."
Last fall Moore went to Paris, France; "Being inspired is not child's play! It can be dangerous. I thought my head and heart would explode with the stimulus I was getting. There is such an intense concentration of beauty in Paris! It's overwhelming."
Lara found she was particularly inspired by the iron work found on the gates, window sills and details on bridges. The inspiring French designs are reflected in her latest works and demonstrate the circular pattern that Lara calls 'tumbling circles' — "I feel like using it on every piece.....for now."
To see more of Lara's work visit her in studio 15-16 or online at http://bit.ly/ZMgv14
When:
January 10th thru March 24th, 2013
Open 10:00 a.m. until 6:00 p.m., Seven days a week
Where:
Arizona Fine Art EXPO, 26540 N Scottsdale Road, 85254
Southwest corner of Jomax & Scottsdale Roads, North Scottsdale
5 miles south of Carefree & 5 miles north of Loop 101 (5 minutes)
Who::
Open to the public
115 studios filled with award-winning artists passionately producing art.
Easy access and wheelchair accessibility.
Admission and Parking
Season Pass (one-time fee) $10, $8 for seniors and military.
Purchase passes at the gate or call ahead.
Return as often as desired at no additional charge with Season Pass.
Parking is Free
Visit http://www.ArizonaFineArtEXPO.com or call 480-837-7163.