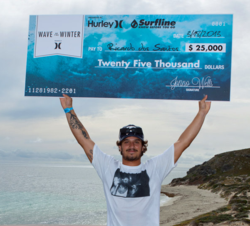 I can't believe this. That was the best surprise I've ever had. I always try and charge as much as the other guys. And I was checking Surfline everyday. All season, I was just trying to be in the right place and get the right wave.
Huntington Beach, CA (PRWEB) March 22, 2013
Brazil's Ricardo dos Santos' flawless Pipeline bomb earned top honor as the Wave of the Winter for the 2012-13 North Shore season. After much scrutiny, the expert judging panel, which included Gerry Lopez, Sunny Garcia, Ross Williams, and Pancho Sullivan, deemed dos Santos the winner based on wave size, degree of difficulty of maneuvers, style, and an overall "heaviness" factor.
"I've always wanted to get a perfect one at Pipe -- with a good takeoff, sunny day, good spit and nice style," dos Santos explained. "I knew that afternoon was the best moment to try it."
After a fairly slow early season, the ocean's energy began to pick up in December. Even then, the surf was not consistent throughout the days and there were only small windows of opportunity to paddle out for a good session. But finally, on December 30th, dos Santos and a handful of others jumped out at Pipeline and dos Santos scored his $25,000 ride.
"Ricardo caught the winning wave and, in the end, after looking at so many good rides and good surfing, it came down to the wave," said Head Judge and Pipeline legend, Gerry Lopez. "Ricardo was in the right place at the right time, the wave came along, he rode it and, from a judging standpoint, it was that particular wave that put him above the rest."
During what dos Santos believed to be a routine interview in Margaret River, Australia, Hurley's Brandon Guilmette appeared out of nowhere with an oversized $25,000 check and bottle of bubbly in celebration of the victory. An utterly shocked dos Santos exclaimed, "I can't believe this. That was the best surprise I've ever had. I always try and charge as much as the other guys. And I was checking Surfline everyday. All season, I was just trying to be in the right place and get the right wave. I knew my wave was good but it always looked like a lot of guys got better waves than me."
Wave of the Winter presenting sponsor, Hurley, was honored to award the grand prize to dos Santos. "Every entry merits recognition and cheers to Ricardo for taking this one." said Peter Jasienski of Hurley. "Contest or no contest, I'm sure he and all the chargers will be back next year scratching for that one good one,"
The Clif Bar Overall Performance Award was given to Australia's Anthony Walsh for demonstrating outstanding skill, commitment, courage, and style, while consistently riding the most challenging waves offered on the North Shore through the Wave of the Winter waiting period. He received a $10,000 cash prize, as well as $10,000 to donate to his charity of his choice, the Mauli Ola Foundation.
Special thanks to Wave of the Winter Presented by Hurley judges: Gerry Lopez, Sunny Garcia, Pancho Sullivan and Ross Williams and Contest Director, Darren Brilhart.
Download a clip of dos Santos' winning ride at Pipeline.
-About Surfline/Wavetrak, Inc.-
Surfline/Wavetrak, Inc. ("the company") specializes in providing live and predicted ocean weather information, editorial content, and consulting services to consumers, businesses, and government agencies worldwide.
Headquartered in Huntington Beach, California, the Company is focused on enabling its customers to pursue peak surfing, marine, and fishing experiences through the Surfline.com, Buoyweather.com, and Fishtrack.com brands on web and mobile platforms.
Since 1985, surfline.com ("Surfline") has built the largest streaming coastal HD cam network and merged premier surf forecasts and editorial talent with industry-leading technology to produce content of quality aimed at active participants in the sports of surfing primarily, with other ocean enthusiasts such as stand-up paddle boarding, windsurfing, bodysurfing, bodyboarding and kitesurfing utilizing the services as well.
In 2003, the Company acquired buoyweather.com ("Buoyweather"), a popular website for boaters, sailors, anglers and divers. Buoyweather is unique from its network of "Virtual Buoys" that provide focused marine forecast data for coastal and offshore areas in the world. From each virtual buoy point, users are able to gauge current wind speeds and swell heights, as well as garner a seven-day marine forecast for that precise location.
In 2012, the Company launched fishtrack.com ("Fishtrack"), a website for offshore fisherman. Fishtrack offers coverage of many of the world's top sport fishing destinations. Users are able to view the latest SST charts and Chlorophyll imagery, plot waypoints and receive marine weather forecasts with one convenient tool.
The company's online properties were visited by an average of 175,000 unique people per day and an average of 2,000,000 per month.
The Company offers paid premium subscription services on both web and mobile platforms. In addition to paid subscriptions, the Company also offers advertising and provides a range of marketing services designed to reach and connect with users of Surfline, Buoyweather, and Fishtrack.
For more information on Surfline, please visit http://www.surfline.com and check out our Facebook page at http://www.facebook.com/surfline. You can follow us on Twitter at: http://www.twitter.com/surfline and Instagram: @surfline.