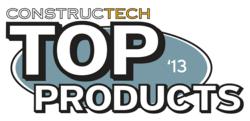 We felt it was important to develop and market a product tailored to the specific needs of the heavy construction industry, versus existing general ERP software solutions - Robert Meunier, founder and president of Maestro Technologies
Houston, Texas (PRWEB) March 25, 2013
Maestro Technologies, a leading provider of ERP software solutions specifically designed for the construction industry, announced today that its HeavyWorks construction management solution was awarded a commercial Top Product in the "New Products" category by the editors of Constructech magazine. Built specifically for the heavy construction industry, the HeavyWorks construction software is a unique combination of key functionalities cohesively packaged into one solution to address the very distinctive needs of this market through a simple to use interface. When combined with Maestro*CONNECT, HeavyWorks users benefit from a suite of integrated cloud-based applications that extend functionality to mobile devices, including tablets and smartphones.
The Constructech Top Products honor technology solutions that have demonstrated outstanding innovation geared toward the commercial construction market. The products submitted are evaluated by Constructech magazine's editorial team. Winners are selected based on various criteria, which includes the product's overall usefulness and uniqueness to the construction industry. Customer growth rate during the past few years for that particular product is also considered.
"We are truly honored and proud that HeavyWorks is being recognized as an innovative and leading market solution," said Robert Meunier, founder and president of Maestro Technologies. "When designing HeavyWorks, we felt it was important to develop and market a product tailored to the specific needs of the heavy construction industry, versus existing general ERP software solutions that attempt to address every market with the same set package of features and functions. This targeted approach has allowed us to deliver a product that is easier to use and implement but yet provides all the specific features that a heavy construction company requires in an accounting and project management software solution. We are truly honored and proud that HeavyWorks is being recognized as an innovative and leading market solution."
"We have reached a point in construction technology where words like mobile, BIM, and collaboration are no longer buzzwords―they are key, in-demand processes that contractors must implement in order to stay relevant," says Mike Carrozzo, chief editor, Constructech. "The 2013 commercial Top Products can meet these demands, and give construction companies the ability to enhance their businesses."
Completely modular in its design, HeavyWorks uses a unique building block approach to respond to the evolving needs of the heavy construction industry. This highly scalable solution allows construction companies to easily add system functionality to align with their existing and future growth, dramatically reducing total cost of ownership while still providing all the advanced functionality required by heavy construction companies. Software modules include Project Management, General Accounting, Job Costing, Bidding and Estimating, Change Management, Equipment Management, Tools Management, Fleet and Garage Management, Ticket Management, Quarry Management, Document Management, to name but a few. For more detailed information, please visit - http://www.maestrotechnologies.com/heavyworks.html
About Maestro Technologies
Founded in September 1989, and with more than 5000 users, Maestro Technologies (http://www.maestrotechnologies.com) specializes in the development of high-performance financial and operational management solutions for the construction industry. Maestro customers include general contractors, heavy and civil contractors, homebuilders, service and trade contractors, concrete and aggregate producers, drilling and mining contractors, fabricators, and manufacturers.
About Constructech magazine
Constructech magazine is where construction and technology converge. The publication influences construction professionals to unleash the business value of technology. http://www.constructech.com