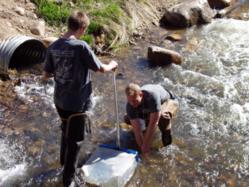 Volunteer water monitors build community awareness of pollution problems, help identify and restore problem sites, become advocates for their watersheds and increase the amount of needed water quality information available on our waters
Salt Lake City, UT (PRWEB) March 22, 2013
In celebration of World Water Day, River Network presents the first report in its new What Works series showcasing successful volunteer water monitoring efforts from around the United States. Creative Partnerships in Volunteer Water Quality Monitoring: A What Works Snapshot presents an overview of the extent to which volunteer monitoring efforts are incorporating partnering into their strategies, and how those partnerships work, including results of a national survey of monitoring project leaders and a selection of case studies demonstrating different types of volunteer monitoring partnerships.
Thousands of trained volunteers with hundreds of nonprofit organizations are monitoring the condition of their local streams, lakes, estuaries and wetlands. Volunteer monitoring has many benefits, but is not free. River and watershed groups often struggle to secure the financial and technical capacity to conduct good, long-term monitoring that effectively documents success (or failure) in protecting or improving water quality or habitat. As nonprofit budgets have shrunk over the last several years, these challenges have only loomed larger. One strategy for stretching water quality monitoring resources is to partner with others who bring complementary skills and resources to the table.
With the recent economic and budget climate, federal, state and local government agencies are even more likely to seek out volunteer monitoring partnerships. Partnerships stretch government dollars, providing more person hours at lower cost. Volunteer water monitors also build community awareness of pollution problems, help identify and restore problem sites, become advocates for their watersheds and increase the amount of needed water quality information available on our waters.
Case studies from the report include:

The Waccamaw River Volunteer Water Quality Monitoring Program is a strong example of a partnership between a nonprofit watershed group, a university, and local governments in both North and South Carolina, with funding provided from stormwater utility fees from three local municipalities.
The Raccoon and Des Moines rivers provide drinking water to approximately 500,000 Iowans. Agriculture's Clean Water Alliance's volunteer monitoring project is an example of how partnerships can create a reliable funding solution to support an intensive, technically rigorous monitoring effort focused on a specific issue of joint concern.
Oregon's Johnson Creek Watershed Council mussel monitoring project is a fascinating example of how a partnership between two nonprofits can play to the strengths of both organizations and bring serious scientific skills to the table, all while increasing resident and stakeholder awareness of mussels in the watershed and providing data to help inform stream management decisions.
The Kiap-TU-Wish Chapter of Trout Unlimited's monitoring project is in the Pine Creek watershed in the Driftless Area of southwestern Wisconsin, famous for its cold water streams and great trout fishing. The Pine Creek monitoring effort is an example of a nonprofit watershed groups and a state agency coming together to combine their distinct skill sets to achieve success and has been used as a model for other stream restoration projects.
What Works Series
This is the first in an occasional series of "What Works" snapshots from River Network's Rivers and Habitat Program. The series is built around case studies from the great work watershed organizations and others are doing on critical river habitat issues.
About River Network
For twenty-five years, River Network has empowered and united people and communities to protect and restore rivers and other waters that sustain the health of our country. We envision a future when every person knows their watershed and is an active caretaker of their local river, lake, stream or bay. We work for the day when all people, fish and wildlife have access to clean plentiful water. Our headquarter staff in Portland, OR and field staff in Vermont, Maryland, North Carolina, Wisconsin, Utah and Idaho work closely with thousands of watershed protection groups from coast to coast – building the capacity of state and local groups, assisting people grappling with water and environmental health problems, protecting habitat for fish and wildlife, developing blue cities and reducing our country's use of water and energy.