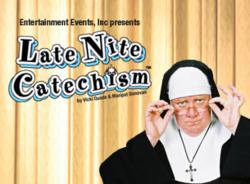 The Catholic Explorer calls it, "A 'habit'-forming hoot!"
Beverly, MA (PRWEB) March 25, 2013
Catechism classes are never as much fun - or as hilarious - as when they are led by Sister in the international hit comedy Late Nite Catechism by Vicki Quade and Maripat Donovan. Late Nite Catechism will be presented at The Larcom Theatre, 13 Wallis St., in Downtown Beverly. Sixteen Performances run April 23rd through May 5th. Tickets are available at http://www.latenitecatechismshow.com or by calling 617-531-1257. Tickets may also be purchased at the door prior to each performance. Generous group discounts for groups of 10 or more are available by calling the ticket hotline as well.
Late Nite Catechism is an uproarious piece of theater that takes audience members back (often nostalgically) to their school days of yesteryear. Your evening at the theatre (or "classroom," if you prefer) is led by "Sister," as she teaches an adult catechism class to her "students" (the audience). Over the course of the play, Sister goes from benevolent instructor, rewarding the "students" for correct answers with glow-in-the-dark rosaries and laminated saint cards, to authoritative drill sergeant, resulting in hilarity throughout.
The New York Times declared it, "An uproarious piece of interactive theatre…inspired, well-written and hilarious," and The Catholic Explorer calls it, "A 'habit'-forming hoot!"
For more information on the show, please visit http://www.latenitecatechismshow.com.
Schedule of Performances:
Tues, April 23 at 7:30 PM
Wed, April 24 at 2:00 PM
Thurs, April 25 at 7:30 PM
Friday, April 26 at 7:30 PM
Sat, April 27 at 2:00 PM
Sat, April 27 at 7:30 PM
Sun, April 28 at 2:00 PM
Sun, April 28 at 7:30 PM
Tues, Apr 30 at 2:00 PM
Wed, May 1 at 7:30 PM
Thurs, May 2 at 7:30 PM
Friday, May 3 at 7:30 PM
Sat, May 4 at 2:00 PM
Sat, May 4 at 7:30 PM
Sun, May 5 at 2:00 PM
Sun, May 5 at 7:30 PM
Late Nite Catechism, which was nominated for an Outer Critics Circle Award in New York and recently won the L.A. Drama Critics Circle Award for Best Lead Performance for Maripat Donovan, is currently playing in New York, Seattle, San Francisco, St. Louis, Vancouver, Scottsdale, New Orleans, Los Angeles and Chicago, where it has been playing to full "classes" since it opened in 1993. Productions in Boston, Sydney and Melbourne recently ended after playing two years in each city.
The Larcom Theatre is a beautifully restored Vaudeville Theatre in downtown Beverly MA that for many years was home to Le Grand David Magic show. Today, it is proud to present Late Nite Catechism, in partnership with Spectacle Management, as the first in a series of theatrical and musical performances. http://www.larcomtheatre.com.
For further information, please call 508-740-0981.
Spectacle Management is a promoter and producer of live entertainment. Based in Boston, they work in theatres and other performances venues throughout New England.
###