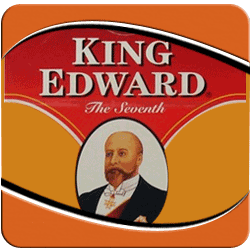 Not everybody is going to be able to afford $10 Coronas or have the two hours it takes to smoke them on hand.
Clearwater, FL (PRWEB) March 23, 2013
TrueTobacco.com, one of the Internet's most well-renowned online tobacco outlets, announced today that it will begin offering its customers several varieties of King Edward Cigars, a popular brand from the makers of Swisher Sweets. The cigars will be available daily at a huge discount, sometimes as low as $0.12 a smoke.
Swisher International, Inc – the makers of King Edward Little Cigars – is one of the most successful tobacco companies in the world. Swisher products account for nearly 1/3 of the cigar sales in the United States, and the company bears the distinction of being the country's largest tobacco exporter. The company's King Edward line was designed as a nod to the real King Edward the VII, who struck down Queen Victoria's ban on smoking with the now infamous line "Gentleman, you may smoke." The cigars are mild in flavor and notoriously smooth, offering an excellent alternative to other tobacco products or a faster cigar experience for smokers on the go. They are available in a number of sizes and styles, with Cherry, Vanilla and Menthol being the predominant flavors.
Nick Gordon, TrueTobacco.com's General Manager, says that carrying more low-cost little cigars like King Edwards is about giving a diverse customer base as many options as possible. "Cigar smokers come in many shapes and sizes," says Gordon. "And, they have a wide variety of incomes at their disposal. Not everybody is going to be able to afford $10 Coronas or have the two hours it takes to smoke them on hand. Little Cigars like Kind Edwards offer great tobacco taste that can be enjoyed almost as quickly as a cigarette, but with all the flavor of a cigar."
As far as little cigars go, King Edwards are widely-believed to be among the best, offering a mild, medium-bodied smoke with a great tobacco taste. In fact, before World War II, King Edwards were the best-selling cigar in the entire world.
"King Edwards Little Cigars will surprise a lot of people," says Gordon. "There's a lot of flavor packed into them. The tobacco is a premium blend that won't disappoint casual smokers or aficionados. And, as always, we've improved upon an already great product by offering King Edwards for less than any of our competitors."
TrueTobacco.com currently offers King Edward Little Cigars in 200 count cartons, with Regular, Cherry and Ice Menthol flavors available. Other King Edwards products on hand include King Edward Imperials, King Edward Wood Tips and King Edward Cigarillos.
About the Product:
King Edward Cigars are widely considered to be among the best little cigars in the world. They are available in a number of sizes, styles and flavors, from Menthol to Cherry. The King Edwards brand is manufactured by Swisher International Inc., the largest cigar exporter in the United States. The company is perhaps best known for their Swisher Sweets brand, the highest-selling little cigar in the country.
About the Company:
TrueTobacco.com is the Internet's most trusted name in cigars, pipe tobacco and tobacco accessories. With one of the largest inventories of tobacco products on the web and heavily-discounted prices, TrueTobacco.com has become synonymous with both quality and affordability. The company also offers a wide variety of tobacco accessories like humidors, cabinets, ashtrays, cigar cutters and hygrometers.