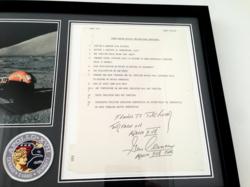 "Its incredible to hold an item in your hand that has travelled half a million miles to the moon and back and spent 3 days on the lunar surface!"
London, UK (PRWEB) March 26, 2013
"The Space auction season is upon us" says Mike Constantine of space memorabilia website, Moonpans.com. The big three are Bonhams, Heritage and RR Auction, who hold space auctions between March and May. "I am hoping to pick up a bargain or two, but there is little chance of that!"
The reason for Mike's pessimism is that prices for high end Space Memorabilia has 'Sky Rocketed' recently. "I would love to get hold of some of Buzz Aldrins Apollo 11 Checklist Pages, but the estimates range from $20,000 to $90,000 for a single page!"
The pages are taken from the actual flown Apollo 11 Flight Plan, which was a ring binder folder containing over a hundred pages of data, settings and procedures needed to get Buzz and his fellow Astronauts to and from the Moon safely.
"I laughed when I read a UK newspaper about the auction, it said Bonhams were hoping to get $60,000 for the manual that helped Apollo 11 land on the moon, I dont think they realized that it was just for ONE PAGE from the manual that helped to land on the Moon!"
"As Apollo 11 was the first Moon-Landing mission, you have to expect prices to be way higher than other missions, so you can find checklist pages and other flown items for a fraction of the cost if you branch out to the other Apollo missions, both before and after Apollo 11"
"At Moonpans we've sold checklist pages that flew to the moon on other missions for as little as $2000, these are very popular with collectors as it gives them an opportunity to own a flown item for a relatively low cost, it's incredible to hold an item in your hand that spent 3 days on the lunar surface!"
Apart from flown items, the other big area of Space collecting are Astronaut Autographed photos. And once again its Apollo 11 that steals the limelight. When Neil Armstrong was alive his signature was the most valuable of any living person, mainly because he had stopped signing autographs in 1994 after autograph hunters who obtained his autograph for free, were selling them on the internet. Not surprisingly Armstrong's signature is also one of the most forged too.
"You have to be very careful when purchasing a Neil Armstrong autograph, especially on sites like eBay, where there is little or no authentication involved. There is also the dreaded 'Auto Pen' machine that NASA used to draw the Astronaut's signature using a machine. Every week somebody emails me an Apollo 11 auto penned photo believing it to be hand signed, and its very sad when I give them the bad news"
"Even though I have been doing this for 10 years, I still make sure that all Neil Armstrong autographs sold by Moonpans, are authenticated by expert Astronaut Autograph authenticators and Certificates Of Authenticity issued "
Again, you get much more bang for your buck, by looking into the other Apollo missions. Where instead of paying $6000 for an Armstrong you can pick up Moonwalker signed photos for as little as $100-$200. Moonpans have a unique twist on the standard signed photo, by offering stunning wide format panoramic prints of the lunar surface, not just signed but also with lunar features hand labelled by the astronauts.
Making the Apollo Panoramic prints is how MoonPans (short for Moon Panoramas) started in the first place, each one is made from about 20 separate photos that the astronauts took as they rotated through 360 degrees. Even though the photos were taken over 40 years ago, it wasn't until Photoshop came along, that these separate photos could be seamlessly combined digitally by Mike Constantine into beautiful single panoramas.
"My favourite Apollo missions were known as the 'J' missions, Apollo's 15, 16 and 17. They landed in far more interesting terrain than Apollo 11, with mountains and valleys that made spectacular panoramic images, they also stayed on the moon for 3 days, and drove around in a lunar buggy!"
"Who knows if we will ever go back to the moon? At the moment there are no firm plans, which is why we must treasure the items and autographs of the brave men of Apollo, which still today remains mankinds greatest adventure."