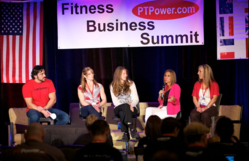 The key for these really successful boot camp owners hasn't been fitness marketing, so much as client satisfaction
Chino Hills, CA (PRWEB) March 24, 2013
At his very popular annual Fitness Business Summit last week, fitness marketing expert and Fit Body Boot Camp CEO Bedros Keuilian welcomed some of the country's most successful fitness boot camp owners and asked them to share their most successful boot camp marketing strategies of the past year. Many of the most effective ideas they shared had little to do with advertising their companies.
"A lot of the best marketing strategies these fitness business owners shared were entirely focused on the clients themselves," says Keuilian, who mentors and trains many of those fitness boot camp owners in building their businesses. "The fitness marketing strategies that were most profitable in 2012 were all about making existing clients happy."
Keuilian explains that focusing on existing clients allowed the most successful fitness boot camp owners to maximize word of mouth and referrals.
"The experience that clients have makes all the difference, so these owners focused on how to offer something unique in addition to amazing results," says Keuilian. "This gave clients the 'WOW!' experience – and that's when they really begin to talk about their trainers to their friends, family and co-workers".
Some of the ways in which fitness boot camp owners gave their clients this sharable experience were running transformation contests, offering special incentives such as free workouts and complimentary designer skinny jeans and involving clients in fundraising and community outreach events.
"The key for these really successful boot camp owners hasn't been fitness marketing so much as client satisfaction," says Keuilian. "Most of these people are six-figure earners and they're doing it thanks in large part to making sure that each client has an amazing experience, gets great results and also feels a part of a valued community. Those are the clients that tell everyone they know how wonderful their boot camp is."
Many of the successful fitness boot camp owners who shared their success strategies also talked about the effectiveness of having a definite plan mapped out for both their fitness marketing and their long term goals for the business, such as how much they wanted to be making, how many hours they wanted to work and how much they really wanted to expand.
"We're seeing such huge growth with Fit Body Boot Camps," says Keuilian of the franchise that is now the fastest selling fitness boot camp business in the world. "Boot camp owners really can choose how much they want to grow the business, based on their lifestyle, their family situation and their financial goals. More often than not, the choice to stay small is their personal decision."
Keuilian was thrilled to see so many owners talking about their focus on client happiness as a marketing strategy.
"Some of the happiest boot camp owners I know aren't just the most financially successful, but the ones who feel they have the happiest clients. At the end of the day, it just feels good knowing that you're doing something good for someone and helping them to live a healthier life and have fun doing it."
To find out more about Bedros Keuilian, his company PTPower.com and the Fitness Boot Camp Franchise Fit Body Boot Camp, contact Bedros Keuilian at (800) 261-0208. Alternatively you may use the contact form at http://ptpower.com/contact-me/ or send an email to Bedros Keuilian at support(at)keuilian(dot)com.