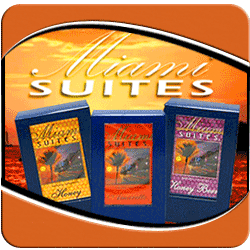 We've had good experiences with other brands in similar flavors
Miami, FL (PRWEB) March 25, 2013
The company expects the new flavors, Honey and Amaretto, to be big sellers. "We've had good experiences with other brands in similar flavors," said Nick Gordon, TrueTobacco's General Manager. "We expect our fans of Miami Suites will enjoy these as well."
Miami Suites are aromatic, flavored cigars in the little cigar style, with a ring gauge size of 24. They are sold in packs of five cigars and are available in five flavors, including Honey and Amaretto. Each flavor is packaged in an air-tight, flavor-sealing pouch to preserve the cigars' taste and aroma. Miami Suites also feature a natural leaf wrapper of imported Java tobacco, a feature not often found in cigars in this category. The cigars are described as providing a smoke of mild-to-medium strength, with a pleasant aroma that will appeal even to non-smokers.
Miami Suites are a product of Altadis, a large international tobacco company that now produces a number of well-known labels from past decades. The company's roots stretch back many decades to 1918 and the Consolidated Cigar Corporation. The Altadis name itself came into use in 1999, after a series of corporate reorganizations and an agreement between Consolidated and the Spanish tobacco producer Tabacalera S.A. Altadis now sources its tobacco from markets all over the world and operates production facilities in a number of countries, including in the US state of Florida and in Puerto Rico. Some of the well-known, classic brands now held by Altadis include Havana Sweets, Backwoods and Dutch Masters, as well as Miami Suites. They also market an extensive line of pipe tobaccos.
The new Miami Suites flavors are available from TrueTobacco.com at an affordable price, in cases of six packs of five. Smokers who purchase the new Honey or Amaretto flavors will received up to twelve "Loyalty Points" from TrueTobacco, which can be redeemed for a discount on later purchases from the website. In addition to personalized, top-notch customer service, the online tobacco retailer also offers free shipping on bulk orders.
Mr. Gordon encourages first-time or returning customers interested in the new Miami Suites flavors, or in any other cigars or smoking accessories, to navigate to TrueTobacco.com and use their online checkout page for quick service. TrueTobacco also maintains a toll-free number for customers who have questions about their orders or want advice about a purchase.