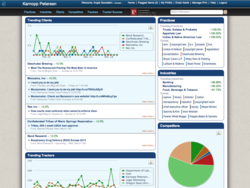 To advocate for our client's rights, we need to stay on top of all legal and business issues. Manzama gives us the tools to more easily stay informed.
Bend, Oregon (PRWEB) March 22, 2013
To better track news, trends, and online buzz, businesses depend on tools like Google Alerts to collect and find the information relevant to their products, services or industry. Yet sorting information is becoming more difficult as digital sources expand, an issue even more critical in business where staying up-to-date creates a competitive advantage.
For Karnopp Petersen LLP, staying current, updated and abreast of what clients demand and expect of their law firm just got easier. The firm enlisted leading listening platform provider, and a Central Oregon success story, Manzama™, the first listening platform for the legal industry. Manzama designs products that specifically help attorneys and practice groups identify salient information about their practice from the vast electronic domain. The platform automatically searches, classifies, and ranks legal and industry-specific sources, blogs, Twitter feeds and other social media, and delivers relevant results.
"To advocate for our client's rights we need to be able to stay on top of all the legal issues and business trends that affect them. In a firm our size, that can mean keeping current with dozens of industries and changing legal requirements," said Josh Newton, partner at Karnopp Petersen. "Manzama allows us to aggregate pertinent information, enabling us to be more strategic, informed, efficient, and therefore, more competitive."
Manzama now counts among its clients half of the AMLAW 25, and over 50 additional law firms within the NLJ 250, including firms with a significant international presence. Karnopp Petersen LLP, is the first Central Oregon law firm to work with Manzama.
"We are delighted to partner with Karnopp Petersen, a firm whose thought leadership has a long standing and trusted reputation in Central Oregon," said Mark Hinkle, President and COO, Manzama. "Adding this partnership reflects our continued quarter-over-quarter growth, an expansion that we proudly tout has maintained a 100% retention rate among existing clients."
About Karnopp Petersen LLP
Based in Bend, Oregon, Karnopp Petersen LLP, has been voted the "Best Law Firm" in Central Oregon by Central Oregon Magazine. For more than 75 years, our lawyers have been serving the legal needs of businesses and individuals regionally and throughout Oregon. Local roots and strong community ties have created a firm devoted to local clients and their causes. Our attorneys provide legal expertise in a variety of areas, including business law, employment law, civil litigation, creditors' rights, real estate, land use and estate planning. Karnopp Petersen LLP, is the largest law firm in Central Oregon and serves Oregon communities throughout central, southern, and eastern Oregon. To learn more, visit http://www.karnopp.com.
About Manzama
Established in 2010, Manzama Inc. is a company founded by legal professionals who've pioneered the legal industry's first "listening platform." The platform classifies and ranks thousands of legal industry and client industry blogs, news sites, and other social media applications to uncover the most relevant and important information in support of a law firm's or legal professional's business development and practice strategies. The company's flagship service, the Manzama Platform, utilizes a proprietary application that enables lawyers and law firms to quickly uncover and act on salient information about their clients, competitors, legal topics, and issues of interest. For more information, visit http://www.manzama.com.