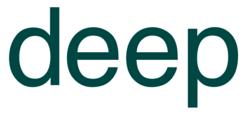 We really go deeper than anyone else—further into the strategy, uncovering insights and, ultimately, building differentiating creative.
Springfield, Mo. (PRWEB) March 26, 2013
The deep agency today announced a new development in its persuasive advertising team. Two of deep's key management members, Valeri Lea and Dan Stewart, have become partners. This is exciting news for deep's clients, as the move further ensures the two will lead the company well into the future. Lea's proven success as vice president of account services and Stewart's innovative vision as creative director has long brought a marketing advantage to deep clients. With the announcement of Lea's and Stewart's partnership in deep, its clients can rest assured that their food branding and marketing needs are in truly capable hands.
Given the history of marketing success deep has enjoyed under the tandem's leadership, clients can expect great things to continue. Through creative collaboration and strategic management, since its inception in 2005 deep has been crafting unique and captivating marketing campaigns for clients such as Nestlé Professional®, Lamb Weston®, Otis Spunkmeyer®, part of ARYZTA North America, and many others. The culture of collaboration at deep supports its mission: "What's in our name, really, is about our philosophy," stated Stewart. "We really go deeper than anyone else—further into the strategy, uncovering insights and, ultimately, building differentiating creative."
A division of the Marlin Network, which has 27 years of experience creating food print ads and marketing campaigns, deep provides clients with a unique atmosphere and culture that is conducive to each client's success. At deep, clients are served by a team with a wealth of marketing experience. Deep's reputation has attracted big-city talent in a smaller city, so their creative team boasts a variety of food marketing backgrounds. "I've worked at several agencies, and it's really unique to see that level of passion and commitment to the craft," Partner Dan Stewart said of his team.
Coupled with an open environment that's conducive to a truly collaborative approach, deep's diversely talented team members provide an extra edge in the foodservice marketing and branding industry. As seen in deep's story, the atmosphere at the agency is unique, and clients can see the collaboration for themselves when visiting deep's headquarters and test kitchen. "I think that it's important that your culture carries over into how you service your clients. We always want to be the most fun part of their day," said Partner Valeri Lea.
With the newly named partners at the helm, it appears deep will only add to its rich history by exploring new creative endeavors to keep their clients' brands top of mind.
Deep
Part of the Marlin Network, deep was founded in 2005 and is known for creating cutting-edge food marketing campaigns, including interactive marketing and breakthrough food print ads. Representing more than 70 food and beverage brands, the Marlin Network is the number one purchaser of foodservice media. The Marlin Network is 100% employee owned and consists of deep, Marlin, Alchemedia Project, Marlin Network Consulting, FoodIQ and STARAwards. The Marlin Network was included in Inc Magazine's lists of America's Fastest Growing companies in 2010 and 2011. For more information, visit deepgroup.com or follow them on Facebook, Flickr, Twitter, and the b!eep blog.