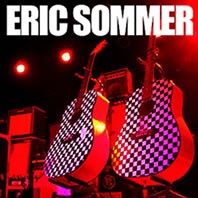 I have never seen anyone play like this - especially on a checkered guitar. Or any guitar.
Mic Stasson
OneAterNineONine Music
New Hope, Pennsylvania (PRWEB) March 26, 2013
Eric Sommer knows that even for Americana music lovers, It's getting harder and harder to leave the house.
With so much global uncertainty, bad news and lack of truthfulness in the world, it has to be something extraordinary to get most folks out of the living room and into a music venue.
So if ever there was good reason to get out of the house on Sunday, April 7 and head into New Hope and John & Peter's, seeing Eric Sommer live is one of the best.
Slide, open tunings, all manner of innovative approaches and even some that can't be described come together at an Eric Sommer show. An artist who has been on the scene for some time, Mr. Sommer carries a lot of musical credibility. A ton, in fact. And what's even better is that he can do it, and do it all, and do it so well it hurts.
Take your pick: David Bromberg, Nick Lowe, Wreckless Eric, Bram Tchaikovsky, John Hammond... Eric has shared the stage with so many great and influential artists it's hard to keep track of it all. And he just keeps touring and touring, play and playing... and writing harder and with more bite that ever. "Europe Europe" is a caustic lament at what is happening in Europe today, the end game in Cyprus will effect us all.
Mr. Sommer has developed a combination of techniques that are unique and their application "on-the-fly" is exploratory in the audio sense: varied tuning alterations while playing, sonorous double string drones, octave overtones with enhanced feedback manipulations, volume and tone adjustments and above the fret board tones as well as lap-slap guitar in a cyclone of sound and movement that is almost gymnastic.
Current New England Tour plans for April and May include:
April 3 @ Espresso Joe's in Keyport, NJ
April 7 @ John & Peter's in New Hope, PA
April 9 @ Sally O'Brians in Somerville, MA
April 10 @ Wicked Willys in Greenwhich Village, NYC
April 16 @ Sally O'Brians in Somerville, MA
May 3 @ John & Peter's New Hope, PA
May 7 @ Sally O'Brians in Somerville, MA
May 14 @ Sally O'Brians in Somerville, MA
May 12 @ Radio Bean in Burlington, VT
June 2 @ John & Peter's New Hope, PA
___________________________________________________________________________
For Music Samples please visit CDBaby or Eric Sommer online for additional schedules or contact him at eric(at)ericsommer(dot)com or call 202-255-1995. Additionally, you can find Eric Sommer on Facebook, too.
Eric Sommer is represented by Clyde is Thinking, and PR programs are managed thru MTG/NY; For more information, promo/appearance requests or to set up an interview, please contact Tom Monihan 202-255-1995.