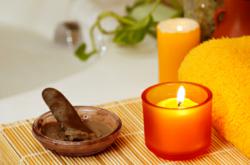 San Francisco, CA (PRWEB) March 23, 2013
Traditional bath salts and soaks provide trace nutrients from sea minerals that are absorbed by the skin when activated in water. Zion Health's Ancient Clay Bath Detox minerals now available at Weaver's Way contain a high grade form of bentonite detox clay (Kanwa) for whole body purification. In addition to it's nutrient-rich nature, with over 60 trace minerals, Kanwa is commonly used for cleansing, detoxifying and toning the skin. With unique, negatively charged clay particles, Zion's ClayBath Detox minerals are known for its ability to magnetically pull bacteria, heavy metals and environmental toxins out of the skin.
Ancient societies from Egyptians to Native Americans have utilized clay for natural skin care and as a whole body detox remedy. According to Michel Abhesera, author of "The Healing Clay," Native Americans referred to bentonite clay as "Ee-Wah-Kee," meaning "The-Mud-That-Heals." Clay has been used throughout history to treat various skin conditions, viral infections and parasites.
Zion Health's Clay Bath Skin Detox Minerals are now available at Weaver's Way Co-op in Pennsylvania. Weaver's Way first opened its doors in 1973 with a desire to provide wholesome, low-processed food for the community. As a family owned, natural health food store with the highest quality vitamins and supplements, Zion Health is proud to announce the addition of its natural Ancient Minerals Clay Bath Detox at Weaver's Way establishments.
Zion provides its consumers with pure skin and body care products that are vegan, free of parabens, aluminum and formulated using certified organic ingredients whenever possible.
Zion Products are available at Whole Food Health Food Stores in California and Florida and CO-OPs and Local Health food stores in the U.S. and Canada. For more information on Zion products, visit website: http://www.zionhealth.com.