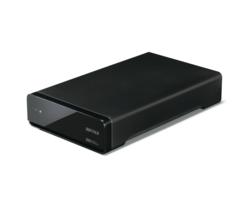 Thanks to Buffalo's new DriveStation HD-AVSU3 working seamlessly together with our Viera USB recording function, the consumer experience in all of our Plasma and LED TVs becomes a true "Plug-and-play" and reliable solution
London, UK (PRWEB UK) 22 March 2013
Buffalo Technology, a global leader in the design, development and manufacturing of storage and wireless networking solutions, today proves how easily memory space can be expanded with its new DriveStation HD-AVSU3. The hard-drive provides huge backup capacity for Panasonic camcorders, as well as its Viera flat-screen TVs and Panasonic Blu-Ray recorders.
Since 2010, Buffalo Technology and Panasonic have been cooperating to boost the interaction between home entertainment and memory capacity technology. The result is Buffalo's new DriveStation hard-drive, which boosts memory capacity of these devices by an impressive one or two Terabytes.
The HD-AVSU3 features USB 3.0 connectivity, which provides top marks for speed and is compatible with numerous Panasonic products and any Windows or Mac PC. The high-powered, attractively priced and user-friendly USB hard-disk storage device allows any recordings to be moved instantly, freeing up memory space on camcorders, TVs or Blu-ray recorders.
USB ports on all Panasonic camcorders, as well as the Viera TVs, enable the Buffalo DriveStation to be connected as a direct external disk,
The HD-AVSU3 is a discreet yet powerful companion for any living space, with a glossy piano black finish that blends flawlessly into a wide variety of interior designs. A generous two-metre USB 3.0 cable is supplied with the DriveStation ‒ and the powerful multimedia memory drive also comes with a connection cable for Panasonic camcorders.
"Both Panasonic and Buffalo are Japanese manufacturers that believe in high quality products. To ensure the best user experience, Buffalo Technology's HD-AV was developed in close collaboration with Panasonic's engineering department. Our customers will now be able to enjoy TV recording and streaming at the push of a button", says Fabien Rousseau, Director Product Marketing EMEA at Buffalo.
"Thanks to the Buffalo's new DriveStation HD-AVSU3 working seamlessly together with our Viera USB recording function, the consumer experience in all of our Plasma and LED TVs becomes a true "Plug-and-play" and reliable solution", says Markus Wagenseil, Manager Product Marketing TV Group Panasonic Marketing Europe.
ENDS
Price and availability
The DriveStation HD-AVSU3, which comes complete with a two-year warranty, is now available at MSRPs of £87.18 for the 1TB capacity version and £108.99 for the 2TB capacity version.
Panasonic products supporting the new DriveStation HD-AVSU3 are:
Camcorders: HC-X920M,HC-X920,HC-X929,HC-X910
HC-V720M,HC-V720,HC-V727,HC-V710
HC-V520M,HC-V520,HC-V510,
HC-V210M,HC-V210,HC-V201
TVs: ZT60, VT60, GT60, WT60, DT60, FT60
Recorders: DMR-BWT720, DMR-PWT520, DMR-PWT420, DMR-HW220, DMR-HW120
About Buffalo Technology
Buffalo Technology is a global manufacturer of innovative storage, multimedia, and wireless networking products for the home and small business. The company is recognised as the Number 1 total PC peripheral manufacturer in Japan, and was named the worldwide consumer NAS market leader 6 years in a row.
The company's storage products are addressing the needs of the individual and the business, providing cost-effective network attached storage (NAS), portable and desktop hard drives, multimedia players, and Wireless LAN routers, which together offer a complete and integrated solution for the small office and digital home environment.
Buffalo's strong international industry alliances with companies such as Intel, Broadcom™, Nintendo and Microsoft have allowed it to lead the industry in the development of the latest technologies into practical tools for the business and the home.
Headquartered in Japan, Buffalo Technology has offices in the UK, France, The Netherlands, USA and Taiwan. For more information please visit http://www.buffalo-technology.com.