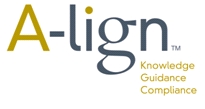 Scott Price stated, "We look forward to meeting fellow PRISM members at the upcoming conference in Bonita Springs and invite all attendees to stop by Booth 413,"
Tampa, FL (PRWEB) March 23, 2013
A-lign CPAs and A-lign Security are committed to being on the forefront of industry trends. Part of their commitment includes maintaining current memberships in leading organizations within different industries.
With many of their clients in the records and information management services industry, A-lign concluded it was a necessity to become a part of the PRISM community to take part in the advocacy and education of information management companies.
A-lign will be in attendance at the upcoming PRISM International 2013 Annual Conference May 13-16, 2013, as first time exhibitors.Specializing in SSAE 16/SOC1, PCI DSS, and HIPAA compliance audits, A-lign's goal for this conference is to provide knowledge and guidance regarding the regulatory industry standards that information management companies are subjected to, as they want to listen to their clients to ensure their offerings meet their needs.
A-lign also holds group memberships in the following organizations:
ACA - Association of Credit and Collection Professionals
AICPA – American Institute of Certified Public Accountants
APA – American Payroll Association
ETA – Electronic Transactions Association
HBMA – Healthcare and Billing Management Association
IIA – The Institute of Internal Auditors
IPPA - Independent Payroll Providers Association
ISACA - Information Systems Audit and Control Association
ISSA - Information Systems Security Association
NASPL - North American Association of State and Provincial Lotteries
PCAOB - Public Company Accounting Oversight Board
TPG - The Payroll Group
A-lign CPAS is a national provider of SSAE 16 and ISAE 3402 Audit and Compliance Services. A-lign Security is a national information security company, certified by the PCI Security Standards Council as a Qualified Security Assessor Company, experienced in assisting clients with their PCI Data Security Standards.
PRISM International (Professional Records and Information Services Management) is a not-for-profit 501(c)(6) corporation based in Glenview, IL. In addition to physical record storage and management and data protection services, PRISM International also provides services and education related to imaging and conversion services and confidential destruction services. The organization is global in scope and serves members in more than 60 countries around the world.