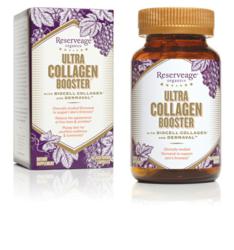 Gainesville, FL (PRWEB) March 21, 2013
Better Nutrition magazine has recognized Reserveage™ Organics' Ultra Collagen Booster with its 2013 Best of Natural Beauty Award in the Supplements category.
Ultra Collagen Booster is one of Reserveage Organics' Beauty from Within products, aimed at helping consumers create a beauty routine that works from inside the body by supplementing with the beauty proteins the body produces naturally, including collagen and keratin. About the age of 30, production of those proteins begins to slow down and signs of aging begin to show. Moisturizers, conditioners and make-up can help enhance someone's assets but they only work from the outside.
Ultra Collagen Booster combines two clinically studied ingredients—BioCell Collagen® and Dermaval™—to support and maintain beautiful hair, nails and skin naturally.*
The product also won the Delicious Living 2013 Beauty and Body Award for Best New Product.
CEO Naomi Whittel founded Reserveage Organics four years ago with a goal of becoming an innovator in the health and wellness field. "I wanted to give my customers best-in-class nutritional supplements made with science-based and patented ingredients," she said. "Every one of my products takes its inspiration from clinically researched ingredients and the world's healthiest cultures."
Reserveage Organics has been first to market with many breakthrough ingredients. "I take pride in attracting new customers by taking the guesswork out of choosing supplements," Whittel said. "I want to help every one take that first step toward whole-body wellness."
The company has launched more than 140 science-based products and has won more than 25 industry awards for product excellence.
Earlier this year, the company was honored with the Silver Stevie Award for Fastest Growing Company with more than 10 employees. Whittel, winner of a 2012 Enterprising Women in Business Award, was named the Gold Stevie Award Winner as Female Executive of the Year of a consumer products company with 11 – 2,500 employees and the Silver Stevie Award Winner as Female Entrepreneur of the Year.
About Reserveage™ Organics
Inspired by the wisdom of nature and the healthiest cultures around the world, Reserveage Organics aims to provide high-quality, science-driven products that deliver life-changing benefits. We know nature is a powerful and abundant source, so we travel the world in search of the finest natural ingredients. The philosophy that inspires us to enhance the relationship between science and nature drives the formulations we create using clinically researched ingredients with demonstrated results. We strive to provide the world's most advanced and innovative nutritional supplements that deliver the promise of supporting optimal wellness. We are devoted to providing naturally sourced ingredients in authentic formulas.*
For more information about the Reserveage Organics complete line of nutritional supplements, call 800.553.1896 or visit http://www.reserveage.com.