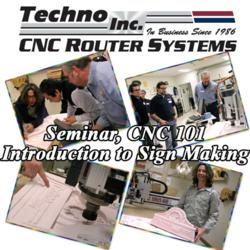 Award Winning CNC Designer, Jamie Oxenham, renowned expert in the field of film props, television, print advertising, themed signage and manufacturer of all things creative conducted the seminar
New Hyde Park, NY (PRWEB) March 27, 2013
Our goal was met with great interest and enthusiasm by all of the attendees! Guest Speaker, Award Winning CNC Designer, Jamie Oxenham, renowned expert in the field of film props, television, print advertising, themed signage and manufacturer of all things creative conducted the seminar. He spoke on CNC sign routing basics with presentations on Creating a Smarter Toolpath, Engraving, Nesting and Braille ADA Signs. He and the Techno team gave individual direction and support on each attendee's questions. The high-point of the day was Jamie's demonstration on how to route a sign from start to finish on a Techno LC CNC Router.
Techno's team extend their thanks to all those who participated. We are grateful for the time and energy everyone put into getting here early in the morning and traveling great distances to attend. More seminars are coming soon.
These presentations are available for everyone who is interested in learning sign-routing basics at http://www.technocnc.com/training/CNC-101.htm or call to speak with an Application Engineer at 1-800-819-3366 for any specific questions that you have.
Note to the editor
An electronic version of this release including a 300 DPI hi-resolution JPEG image can be download at http://www.technocnc.com/training/CNC-101.htm.