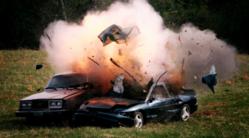 Our online format allows students to study with leading professionals in the field, get regular feedback from those instructors and even get hands-on lab experience.
Richmond, Kentucky (PRWEB) March 25, 2013
Eastern Kentucky University's online bachelor of science degree program in Fire, Arson and Explosion Investigation will be the first of its kind in the nation. The EKU Online degree program gives students an unprecedented opportunity to earn a fully accredited online degree from those who are foremost in the field today.
"As a fire investigator, you want to have solid credentials and be recognized as a true expert in the evolving field of fire science so that you can report your findings and testify in court with confidence," said Jim Pharr, chair and associate professor in the department of Safety, Security and Emergency Management. "We get students ready to do that."
The University's on-campus Fire, Arson and Explosion Investigation program has successfully prepared leaders in the field for more than 30 years. EKU graduates hold city, state, and federal investigative positions, and are working as fire and explosion investigators for manufacturers, engineering firms, insurance companies, and private investigative companies around the country.
The new online program, which will result in the same EKU degree, is designed especially for working professionals in the field who are seeking career advancement. Students will be immediately assimilated into an environment focused on elevating the level of research, knowledge, and application of engineering and science to the field of fire, arson, and explosion investigation.
"Our online format allows students to study with leading professionals in the field, get regular feedback from those instructors and even get hands-on lab experience," explained Pharr.
A highlight of the curriculum will be two weeks at the EKU Fire Labs on the Richmond, Kentucky campus where courses will focus on conducting fire origin and cause investigations, investigating explosion scenes and examining devices and products to determine failure modes.
EKU launched an online degree program in Fire Protection and Safety Engineering Technology in 2007 and also offers an online program in Fire Protection Administration. Advances in instructional design give faculty a variety of ways to convey their expertise in an online learning environment. Whether they are providing students with video feedback, offering virtual office hours or enhancing video lectures with computer-generated, 3-D models, they are committed to helping students' succeed.
Faculty teaching in the new online program include Pharr, a 30-year fire service veteran who served as a fire fighter, investigator, fire chief and emergency management director before becoming an educator, and Tom Thurman, a former FBI special agent who investigated the bombing of Pan American Flight 103 over Lockerbie, Scotland, as well as the bombings of the Oklahoma City federal building and the World Trade Center Towers. Many of the EKU faculty members are certified fire and explosion investigators who are still actively involved in the field. In addition to authoring the industry's top textbooks, they hold various leadership positions within the profession, including membership on the National Fire Protection Association's NFPA 1033 Technical Committee, which writes the "Standard for Professional Qualifications for Fire Investigator."
Those who apply by July 13 can start classes in Fall 2013.
Named one of the Top 10 Online Colleges in the Nation by "Best Colleges" in 2010, EKU strives to make quality education accessible to everyone. EKU is a fully regionally accredited, brick-and-mortar institution celebrating more than 100 years of student success. EKU Online offers more than 20 degree options in a variety of fields, including Education, Psychology, Paralegal Studies, Police Studies, Corrections, Juvenile Justice, Occupational Safety, Fire Protection and Homeland Security. For more information, visit http://www.eku.edu/fireandarson.