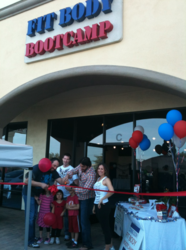 There really has never been a better time to start a boot camp
Chino Hills, CA (PRWEB) March 27, 2013
Starting a new fitness business has never been especially easy. The risk for failure has always been high and even those businesses that succeed require a great deal of time and hard work to do so. They also take some very smart fitness marketing strategies. Bedros Keuilian knows quite a bit about that. He started his own fitness boot camp business on a shoestring ten years ago and it is now the fastest selling fitness franchise in the world.
"Starting a fitness boot camp was hard and scary then and it can be hard and scary now," says Keuilian. "But this is a great time to do it, because the boot camp model is actually much more economical to start and run than a traditional personal training business."
Keuilian explains during FBS 2013, fitness boot camps utilize time much more efficiently than one-on-one training. "A fitness boot camp class generally has ten or twenty people in it, so owners can earn much more money per hour than with one-on-one personal training."
Keuilian says that fitness boot camps are also one of the hottest trends in fitness today, which makes them an easy sell.
"Clients like the boot camp model because they can get an awesome workout in a very short time and they can usually get classes at times that other fitness facilities don't offer. That makes it really appealing to people today, because everyone is so incredibly overscheduled."
Keuilian explains that the trendiness of boot camps makes marketing them a great deal easier, as well.
"On my website, I teach a lot of personal trainer marketing techniques and with a fitness boot camp there are so many ways to present your business, build your credibility and build trust through some really inexpensive and effective marketing methods," he says. "People just starting out don't usually have huge marketing budgets, so having free or really cheap marketing programs to use is a really important thing."
The website offers a great deal of marketing help through blog posts, free videos and even free sales and marketing materials that fitness boot camp owners can use to help build their client bases.
"There really has never been a better time to start a boot camp," Keuilian goes on. "Personal trainers need a business model that's easy to sell and economical to run, and clients need a program that offers plenty of value for their money and workouts that get great results without a huge time investment. It's really a win-win for both personal trainers and their clients, especially in today's economy. It's not too often that a tough economy makes it easier to start a business and build it into something successful and profitable in a very short time."
To find out more about Bedros Keuilian, his company PTPower.com and the Fitness Boot Camp Franchise Fit Body Boot Camp, contact Bedros Keuilian at (800) 261-0208. Alternatively you may use the contact form at http://ptpower.com/contact-me/ or send an email to Bedros Keuilian at support(at)keuilian(dot)com.