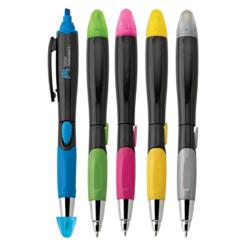 Seattle, WA (PRWEB) March 26, 2013
1234 PENS, the premiere source for customized advertising pens in Canada and the United States, is proud to announce that it now offers the incredibly versatile Blossom ballpoint plastic pen with built-in highlighter. This promotional product is particularly well suited for companies attending trade shows, giving the ability to reach out to potential partners and clients with a high quality and useful product.
While some other promotional products may be quickly discarded shortly following a trade show or professional convention, promotional pens are more likely to be retained. This helps to not only strengthen the initial contact made with the client or business partner, but also it also helps to maintain that relationship moving forward. The gift of a custom-branded pen is a great way to provide clients with something that is far less likely to get lost in the post-trade show haste.
The Blossom line of advertising pens provides the added utility of a built-in highlighter. The ballpoint plastic pen features a stylish black barrel, accented by a chrome tip. The removable cap and matching comfort grip are available in five different colors, each of which is then paired with the matching highlighter color. These include blue, green, pink and yellow, as well as the silver pen with a yellow highlighter. The unique slide-action pen function adds further personality to this versatile product.
As with all customizable pens available through 1234 PENS, the Blossom line is easily customized in one of sixteen different imprinting colors. Customers can choose to have simple text imprinted on the barrel of the pen, like the company name or website URL, or they can opt to have the company logo imprinted instead. The Blossom pen/highlighter is available with black ink. Prices start as low as $0.79 per unit with delivery available to any location in Canada or the United States within 48 hours.
More information about the Blossom pen/highlighter promotional product, along with the full line of promotional logo pens at 1234 PENS, can be found by visiting http://www.1234pens.com.
About 1234 PENS:
In business since 1976, 1234 PENS has helped thousands of clients increase brand awareness and customer loyalty through their high-quality products. 1234 PENS offers pens, pencils and gift sets to suit all budgets, and offers 48-hour delivery on a select number of designs.