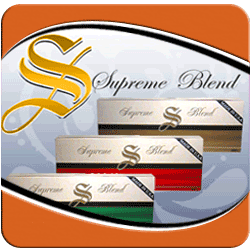 I think more smokers would enjoy a little peach cigar than often admit it.
Miami, FL (PRWEB) March 28, 2013
TrueTobacco.com, one of the largest and most well-stocked tobacco stores on the Web, announced today that it will be hosting a one-day blow out sale on Supreme Blend Little Cigars – a popular line of filtered cigars that come in a variety of flavors.
Supreme Blend Little Cigars are an extremely popular brand of low-cost filtered and flavored stogies. Packed with high-quality North Carolina tobacco leaves and encased in Connecticut wrappers, Supreme Blends provide a satisfying smoking experience that's high on flavor and fast on the draw. The cigars are available in a number of flavors and styles including Full Flavor, Cool Mint, Cherry, Grape, Menthol and Peach. Like many other brands of filtered cigars, Supreme Blends offer an inexpensive and flavorful alternative to cigarettes. The brand even offers their cigars in a Light style in order to further appeal to smokers who usually prefer a less-bold tobacco experience.
According to Nick Gordon, TrueTobacco.com's General Manager, little cigars have been increasing in popularity. "Other tobacco have become so expensive and bogged down with chemical fillers that many people who just want a good smoke at a decent price are making the switch," says Gordon. "When you can get a carton of pure tobacco cigars for the price of one pack of something else, there's almost nothing to think about."
Supreme Blends have a delicate taste and a light aroma that's pleasant to smokers and non-smokers alike. According to Gordon, the flavored lines aren't overpowering or distracting from the tobacco taste either; they merely imbue the tobacco with an extra bit of fragrance and taste.
"One of the things that turns more-experienced smokers off from little cigars are the idea of having fruit flavors added to their smoke," laughs Gordon. "But it's a nice little addition to a cigar that you're only going to be smoking for a short time. I think more aficionados would enjoy a little peach cigar than often admit it."
TrueTobacco.com currently carries Supreme Little Cigars in cartons of 200. Full Flavor, Cool Mint, Peach, Strawberry, Light and Cherry styles will all available at the site. The sale begins at midnight on March 31st and ends at midnight on March 31st , with individual sticks going for as low as $0.05 each.
About the Product:
Supreme Blend Little Cigars are a popular brand of flavored and filtered cigarette-sized stogies. The cigars are available in a number of styles and flavors, and their low price makes them an attractive alternative to cigarettes. With their mild taste and premium tobacco blend, Supreme Blend Little Cigars are a quick, easy and satisfying choice for any smoker.
About the Company:
TrueTobacco.com's reputation for providing great products and great service has made the site one of the premiere tobacco distributors on the Web. With an ever-growing inventory of cigars, cigarillos, pipe tobacco and tobacco accessories, TrueTobacco's customers are never disappointed.
http://www.truetobacco.com/product-category/cigars/cheap/little/supreme-blend-little-cigars/