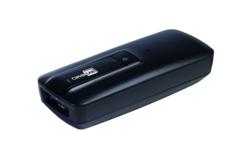 The 1663 linear imager scanner has the ability to read small high density barcodes up to 3 mil resolution.
Plano, TX (PRWEB) March 22, 2013
CipherLab, an established innovator in Automatic Identification and Data Capture (AIDC) starts to distribute the 1663 linear imager scanner in America. The 1663 scanner has specific designs to assist with the environments of the field, on the road, and in healthcare. This pocket-sized scanner includes features that make the data capturing process easy in various different locations. It is specially built by CipherLab to allow field agents to pair it with tablets or smartphones for real-time data transmission and keeping back-end system updated.
The 1663 linear imager scanner has the ability to read small high density barcodes up to 3 mil resolution. It easily operates in most demanding environments with IP42 certified rating and 1.5m drops onto concrete ensuring durability in its housing designs. The 1663 scanner is built with qualities that are proven to be reliable.
The 1663 scanner has a 20-meter Bluetooth® working range which enlarges the working scope from its host regardless of laptop, computer or tablet and gives users more flexibility. It comes equipped with an extensive 4 MB memory to store as much as 240,000 scans in batch mode along with a 10 KB buffer memory for storing up to 600 scans in case you are outside of the Bluetooth® working range. Ultimately, the Bluetooth® connection combining a large data memory provide a more efficient way for users to collect data.
Along with all of its advantages, the 1663 scanner also integrates the function of Time Stamp for easy tracking and analysis. Time Stamp allows to associate a date and time with every barcode read.
For business with field sales, field service, and healthcare needs, 1663 linear imager scanner gives the capability to satisfy a wide range of tasks under various environments. The 1663 linear imager scanner features:
● Great barcode reading capability and proximity suitable to user behavior
● Outstanding reading capability capable for 3 mil high resolution barcodes
● Certified IP42 and 1.5m drops onto concert
● An ample 4 MB data memory in batch mode and 10 KB buffer memory
● Long Bluetooth® working range of 20 meters
● Time Stamp for effective data tracking and analysis
● Long-lasting power of 40 hours for all day operation
● Multiple alerts of vibrator, adjustable beeper and LED for instant scan confirmation
● Available software tools for fast and friendly customization
√ ScanMaster
√ CipherConnect
CipherLab products are available through BlueStar US, Canada and Latin America (http://www.bluestarinc.com). For more details and specifications regarding CipherLab 1663 Pocket-sized Bluetooth® barcode scanner or request for demo, please send an email to NASales(at)cipherlab(dot)com or contact our office at 888-300-9779 by phone.
About CipherLab
CipherLab is a global leader in the design, manufacture, and marketing of Automatic Identification and Data Capture/Collection products and systems. The company's mobile computers and scanners are integrated into the networks of some of the world's best known logistics, retail, distribution, government installations and healthcare companies, helping them run more efficiently and effectively onsite and on the road. Operating worldwide, CipherLab is headquartered in Taipei, Taiwan with offices in China, Germany and the USA, and is publicly traded on the Taiwan stock exchange (Taiwan OTC: 6160).