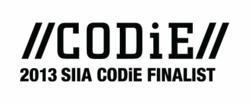 Personalization is key in the 21st century classroom.
Wahsington, D.C. (PRWEB) March 25, 2013
Think Through Math (TTM), an adaptive Web-based mathematics programs for students in grades 3 – Algebra 1, today announced that TTM was named a finalist for the 2013 SIIA Education CODiE Awards for Best PK-12 Personalized Learning Solution. The SIIA CODiE Awards are the premier award for the software and information industries, and have been recognizing product excellence for 27 years. The awards have over 75 categories and are organized by industry focus of Content, Education and Software.
This year's program features 23 Education categories, several of which are new or updated to reflect the latest industry trends and business models. Winners will be announced during a special awards dinner at the nation's leading education technology conference, the Ed Tech Industry Summit, in San Francisco on May 6.
With unprecedented motivational tools and adaptive instruction that personalizes at every step, TTM is changing the way students learn math. "The goal of the program," says McAliley, "is to prepare students for more rigorous mathematical standards, such as the Common Core State Standards the TEKS. But the heart of the program is personalized for each student to accelerate them to grade level as efficiently as possible."
TTM uniquely integrates online learning with access to live, certified math teachers who personally differentiate instruction when students continue to struggle.
"We are truly honored that Think Through Math has been named a CODiE finalist in the category of Best Personalized Learning Solution," said Kevin McAliley, CEO of Think Through Math. "Personalization is key in the 21st century classroom. That's why we are committed to providing high-quality instruction in way that both personalized and effective. Students using the program make significant gains and clearly benefit from the individualized approach."
"We're pleased with the innovative educational technology products that made it to this stage. All of this year's finalists show great promise, and they should be proud of their finalist status," said Karen Billings, vice president of the SIIA Education Division. "I look forward to seeing them all in May at the Ed Tech Industry Summit."
Details about each finalist are listed at http://siia.net/codies/2013/finalists.asp.
About Think Through Learning Inc.
At Think Through Learning, we believe that success in mathematics transforms the way students perform in school and beyond. We are driven to motivate students in unprecedented ways. We have a vision of effective education: a powerful blend of web-based, adaptive instruction and LIVE, state-certified teachers. We champion innovation, teacher effectiveness, college and career readiness, school improvement, data-informed instruction, and cutting edge applications for virtual learning. For more information, visit http://www.thinkthroughmath.com.
About SIIA
SIIA is the leading association representing the software and digital content industries. SIIA represents approximately 700 member companies worldwide that develop software and digital information content. Information technology (IT) and software security are critical issues to SIIA's members, many of whom strive to develop safe, secure and state-of the-art products that effectively serve their commercial and government customers alike, while protecting their intellectual property. The SIIA Education Division serves and represents more than 200 member companies that provide software, digital content and other technologies that address educational needs. The Division shapes and supports the industry by providing leadership, advocacy, business development opportunities and critical market information. For more information, visit http://www.siia.net/education.