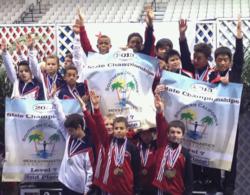 We are what we repeatedly do. Excellence then, is not an act, but a habit
Van Nuys, CA (PRWEB) March 21, 2013
Gymnastics Olympica shined at the 2013 state gymnastics competition held this past weekend at Soka University in Aliso Viejo. The competition was attended by 420 qualifying gymnasts, levels 5 to 10. For the first time in its prominent history, Gymnastics Olympica (G.O.) became the proud recipient of the illustrious Iron Man Award given to the best overall Southern California team of the year. G.O. also brought home the coveted Best Compulsory Team Award, as well as the Team Championship Awards for Levels 5, 6, and 7. In addition to their stellar team performance, the individual gymnasts won a combined 28 first place titles bringing their total to a staggering 33 gold medals, utterly dominating the state meet.
The winning team included six gymnasts that won All Around Titles in their respective gymnastics levels and age divisions. Standout gymnasts Isaiah Drake, Brandon Elias, Luca Famulari, Sam Miller, and Samuel Phillips won at least three state championship titles a piece. The eldest team member, Gagik Garibian, led the victories by winning the All Around title for Level 10 and a total of six gold medals. To top it off, 15 Gymnastics Olympica athletes were placed on the Southern California All Star State Team and will be representing our state at the upcoming regional meet in Reno, Nevada.
The Gymnastics Olympica team is comprised of 60 gymnasts (ages 7 to 17) coached by Boys Head Team Coach Paul Sargsyan and Executive Director/Coach Arthur Minasyan, coaches Tico Mkchyan, Nico Buonora, Pat Dean and Eric Sheppard. Coaches Sargsyan and Minasyan are no strangers to awards themselves having earned the esteemed state award for Coach of the Year in 2011 and 2012. What is Gymnastica Olympica's secret formula for success? "First and foremost, it is based in setting high goals with expectations and teaching the drive and work ethic it takes to accomplish those goals", says coach Minasyan, " The second most important factor to our success is rooted in the trust between the coach, the athlete, and the parents. Lastly, ingrained in our team philosophy are the immortal words of Abraham Lincoln " the best way to predict the future is to create it"."
The coaches' success goes far beyond the state level. Recently, three of their gymnasts were placed on the Future Stars National Olympic Development Team. In November 2012, Luca Famulari, Samuel Phillips and Dylan Young competed at the Olympic Training center in Colorado Springs to win placement on the elite USA teams. Their victories are profound, but the celebrations are short, as there are always new goals that require extreme focus and commitment. The top gymnasts at Gymnastics Olympica train up to 25 hours per week building their strength, increasing flexibility, and practicing their six events: floor, pommel, rings, vault, highbar and parallel bars. Given the extraordinary talent and commitment of Gymnastics Olympica's coaches and athletes, they seem well on track to achieve their future dreams of Olympic gold.
About Gymnastics Olympica
Gymnastics Olympica USA is a non-profit, tax-exempt foundation that was founded in 1974. Throughout 39 years of its eminent existence, G.O. has firmly established itself among the leading providers of physical fitness in Southern California. New and outstanding accomplishments, like the ones attained at the 2013 state meet, lay the foundation for Gymnastics Olympica's growing prestige in this highly competitive field, where discipline, honor and commitment serve as the main factors for success.