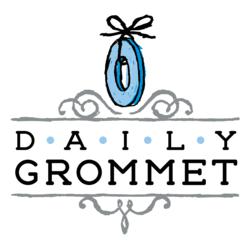 A few folds and tucks, and it's a skirt. Pull it up a little higher, and it's a strapless minidress.
Lexington, MA (PRWEB) March 22, 2013
Daily Grommet, an online shopping site and product launch platform for innovative and undiscovered products is working with fashion entrepreneur to feature angelrox, convertible clothing.
Keeping style options open, a convertible dress from designer Roxi Suger is the way to go. The Flirt is a timeless piece one can easily customize and fit to any body type. A few folds and tucks, and it's a skirt. Pull it up a little higher, and it's a strapless minidress. One can take the strapless style even further with a babydoll top that's tight enough to feel secure while still being comfortable.
But that's not all. The Flirt has outerwear options in its bag of garment tricks, too. The one-piece wrap works as a cape, or, with a twist and a tuck, it's a shoulder shawl. Pair the Flirt with whatever else-- yoga pants, jeans, skirt, dress, shorts -- and one's ready to hit the town, beach, studio, or restaurant. It's made in the U.S. from an eco-knit that blends bamboo with spandex for gentle shaping and support.
Comfort and versatility are Roxi's signature. Her angelrox collection showcases what's important to her, including sustainable design, local craftsmanship, and joyful clothing for all ages, sizes and lifestyles.
About Daily Grommet
Daily Grommet is a highly curated online marketplace and launch platform for products of great utility, style or invention that haven't hit the big-time yet. Daily Grommet seeks out these unique products, carefully tests them, and produces a video review of each one telling the story behind its creation. Daily Grommet is rooted in the philosophy of Citizen Commerce whereby regular people form the commerce experience by suggesting products that reflect their values and interests. Citizen Commerce turns the typical top down retailer approach sideways, encourages global product innovation from small producers, and satisfies the consumer's need to know the stories behind and origins of favorite products. The company was also just named one of the hottest sites of 2013 by Internet Retailer. For more information, visit http://www.DailyGrommet.com.