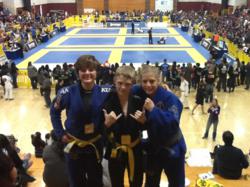 (PRWEB) March 21, 2013
Julie Marie Carrier, an award winning national speaker, is scheduled to come to Crazy 88 Brazilian Jiu-Jitsu to deliver a motivational talk to the women of the academy.
Julie Carrier is a highly-requested speaker and positive role model for teens, girls and young people on making healthy and successful choices. Julie is also widely recognized for her powerful educator and parent programs on how to effectively communicate with teens. As a top-rated speaker for conferences, Julie is especially known for her high-energy and interactive keynotes, workshops and seminars. Julie's exceptional background in educational best-practices helps her involve the entire audience whether she is speaking to 200 or 20,000 people. She helps them utilize the important success principles she teaches.
Crazy 88 Owner and Head instructor Julius Park heard Julie recently speak at a conference and was wowed by her performance. Others that have experienced her events stated, "Julie tailors each program and uses her background in educational best-practices and brain-based learning strategies to maximize the impact of the messages. Students often remember her program even years later!".
The women at Crazy 88 Brazilian Jiu-Jitsu will benefit from her approach and the way in which she so effectively conveys her messages. Her experiences that she describes help the people that attend understand and relate easily. Julie has come a long way from the "monkey legs" and "nerd" labels of high school where she couldn't even get a date to prom. Student audiences appreciate that Julie "walks her talk," that her life actually demonstrates the power of positive life choices, and that she candidly shows students how to do the same.
For more information on future seminars and updates on Crazy 88 Brazilian Jiu-Jitsu, be sure to check out the website at http://www.baltimoremixedmartialarts.com.