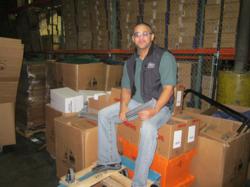 Gentle Giant Moving Company's Red Hook location offers opportunities for our great employees to impress new customers and provide them with even more services in the Brooklyn community
Brooklyn, NY (PRWEB) March 26, 2013
Gentle Giant Moving Company, an award winning local and long distance moving company, announced today that it has opened a third New York office in the Red Hook neighborhood of Brooklyn. The Red Hook location is an addition to the company's Long Island City warehouse space that opened last year and the Tarrytown location in Westchester County which has been in operation since 2006.
The company cites the benefits of the Red Hook warehouse including a vastly improved 6,000 sq. ft. storage facility and strategic location for the growing New York branch. In addition to the expansion of its New York moving company, Gentle Giant is announcing Red Hook's opening as part of a number of growth initiatives in 2013, its 33rd year of operation, in which it now operates offices in nine states including Massachusetts, New Hampshire, Rhode Island, Virginia, Washington DC, Maryland, North Carolina, Washington, and California.
Gentle Giant's need for additional warehouse space in New York has become more pressing due to a steady increase in shipments, manpower required, and storage space demands since beginning operations in New York seven years ago. In 2012, local moving revenues for the company's New York regional operations grew 81% compared to 2010. Additionally, Gentle Giant conducted 370 moves in New York compared to 2010's 265 moves.
"We are pleased about our Red Hook location opening because it offers opportunities for our great employees to impress new customers and provide them with even more services in the Brooklyn community," said Gentle Giant President and CEO Larry O'Toole. "Our company is constantly seeking ways to enhance our impact on our customers' and employees' lives, and our new facilities will enable us to continue growing."
Within the Five Boroughs and Westchester County, Gentle Giant guarantees their service 100%, which include local moving, long distance moving, international moving, commercial moving, storage, and packing. For more information, visit http://www.GentleGiant.com.
About Gentle Giant Moving Company, Inc.
Founded in 1980, Massachusetts Moving Company Gentle Giant is a premier residential and commercial mover, offering local moving, interstate moving, and international moving service. Named 2013 Healthiest Employer by the Boston Business Journal, 2009 Independent Mover of the Year by the American Moving and Storage Association, one of the Boston Business Journal's Best Places to Work in Massachusetts in 2004, 2005, and 2006, winner of the 2006 International Torch Award for Marketplace Ethics by the Better Business Bureau, winner of the Better Business Bureau's Torch Award for Excellence in 2002, 2003, 2005 and 2008, nine-time winner of Boston Magazine's "Best of Boston," six-time winner of The Improper Bostonian's "Boston's Best Moving Company" award, twelve-time winner of the Angie's List "Super Service" award, and 2007 Top Small Workplaces award from the Wall Street Journal and Winning Workplaces, the company's services include craning, piano moving, complete packing services and unpacking services, and other related services. Gentle Giant offers storage facilities and dispatches crews from its 19 offices in California, Massachusetts, New Hampshire, New York, North Carolina, Rhode Island, Virginia, Washington, DC and Washington State. For more information, please call (617) 661-3333 or visit http://www.GentleGiant.com.