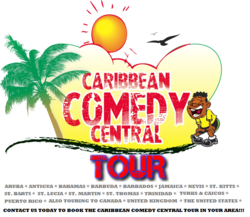 Caribbean comedy is ready for a major network in America, it's unprecedented and great for Caribbean culture
New York, NY (PRWEB) March 29, 2013
A long time coming, Caribbean comedy is ready to take center stage on US cable networks to showcase the funniest side-splitting mix of island comics. Featuring a lineup of the best comedians from around the Caribbean performing on one stage to bring a new brand of comedy to cable TV.
Caribbean Comedy Central (CCC) has been conceptualized and produced by New York-native Michael "Keyboard Money Mike" Williams and Devon Denton, both creators of shows that bring roaring laughter in Jamaica.
Keyboard Money Mike is the creator of the current number one comedy show which is about to begin its 6th season in Jamaica, the "Ity & Fancy Cat Show", and Devon Denton is the Jamaican producer behind a theater running favorite in the last few years, "Brother Desmond."
Together, the producers of Caribbean Comedy Central (CCC) are putting the spotlight on island comics and culture for a much larger and wider audience just as Russell Simmon's Def Comedy Jam and BET's Comic View did with black comedy on cable TV.
"We want to provide a platform for the best comedians in the Caribbean to showcase their talent and for the diaspora to stay current and connected to what's happening in what is a big part of pop culture," Keyboard Money Mike continues, "CCC will be a premium platform to deliver some of the best Caribbean entertainment and content - one of our ideas is to make CCC available on Caribbean airlines and other airlines that fly Caribbean."
According to Williams, CCC is currently in talks with HBO, Showtime and NBC. "Caribbean comedy is ready for a major network in America, it's unprecedented and great for Caribbean culture," says Keyboard Money Mike. "We have produced a TV pilot for Caribbean Comedy Central and are now looking for the right partners to produce a complete season," he continues.
"CCC will offer a great opportunity for companies to reach a very brand-aware population amongst the Caribbean diaspora while stepping up their marketing presence in the developing markets of the region," adds Williams.
The Caribbean diaspora living in the US, Canada, and the UK is a staggering 3-times larger than the population in the Caribbean itself - the population In the US alone is over 22 million. In New York City, the diaspora make up 25% of the foreign-born population; and within the tri-state area - New York, New Jersey and Connecticut - they number close to five million, and 10% of America's total foreign-born population.
The talent base for CCC covers a diverse spectrum of comics from across the Caribbean islands, and Jamaica is one of the more robust markets for talent and entertainment content. CCC will be a new vehicle for new and upcoming comedians in the region to develop their craft. The islands targeted for up and coming shows will include Jamaica, Trinidad & Tobago, Bahamas, St. Lucia, Caymen, St. Kitts and Grenada.
Devon Denton adds, "Caribbean nationals have significant purchasing power as consumers of products and services. They represent $30 billion of annual purchasing in America and our goal is to highlight and expose our advertisers to the major segments in this market."