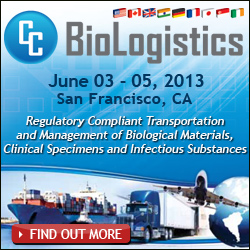 San Francisco, CA (PRWEB) March 22, 2013
Cold Chain IQ, a division of IQPC, announces the BioLogistics Summit, being held June 3-5, 2013 at the Golden Gateway Hotel in San Francisco, CA. This 2 track event will focus on maintaining a regulatory compliant transportation and management of biological materials, clinical specimens and infectious substances.
Want better biologitics? What is the weakest link in cold chain supply? Will cloud computing revolutionize the biopharmaceutical supply chain? In a recent interview, Carlos Castro, Global Transportation and Logistics, Bayer Healthcare, discusses the importance of quality biologistics, key regulatory and operation considerations for cold chain supply and future trends in global pharmaceutical logistics. Listen to the interview entirely here.
Industry leaders from the likes of Pfizer, Baxter, Genentech, and Novartis will offer insights and best practice strategies on the latest developments and updates affecting:
•CMO/CRO Collaboration & Partnerships
•e-Pedigree & Serialization
•Clinical Trial Materials Stability Studies
•Cold Chain Risk Management Processes
•Used Medical Device Returns
•IATA: Perishable Cargo Regulations (PCR)
•Cryo Vessels Transport & Shipping Systems
•Biological Specimens
For more information on the BioLogistics Summit please visit http://www.ColdChainBioLogistics.com or contact Claudia Rubino, Senior Program Director at Claudia.Rubino(at)iqpc(dot)com.
About IQPC
IQPC is an industry-recognized leader in B2B temperature control pharmaceutical events for 12 years across the North America and the world in new and emerging markets. Today there are 13 IQPC cold chain pharmaceutical events around the world. The flagship IQPC Cold Chain Global Forum each September brings 600+ supply chain stakeholders together to discuss today's hottest topics in temperature control logistics and quality management. Online we continue engaging and educating the temperature control biopharma industry on http://www.coldchainiq.com – a free resource center of articles, videos and expert interviews.
Contact:
IQPC
Taryn Soltysiak
Marketing Manager
E: taryn.soltysiak(at)iqpc(dot)com
T: +1 212-885-2695
http://www.ColdChainBioLogistics.com