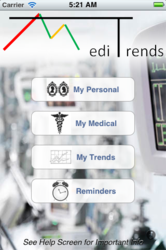 Empowering Individuals to Better health
Jackson, NJ (PRWEB) March 26, 2013
DigiMed, LLC, formed in December 2010 to provide healthcare related software application solutions, is pleased to announce the release of their Phase I mobile application for iPhones and iPads, MediTrends. This application focuses on proactive healthcare for individuals. MediTrends empowers individuals to better health.
MediTrends state-of-the-art mobile app stores a family's medical history and keeps it just a fingertip away. Most importantly, through the use of a patented concept, MediTrends can potentially identify a health risk before it occurs. MediTrends stores, tracks, correlates and trends critical health/lifestyle parameters such as blood and urine tests, diet, exercise and smoking habits, then generates color coded graphs. These graphs form the "State of Health" (SOH) of an individual which differentiates MediTrends from all other health care apps.
In addition to storing, tracking, correlating, trending and graphing an individual's critical health/lifestyle parameters, MediTrends stores pertinent personal information, physicians, hospitals, pharmacies, medications, insurance, medical issues, recent tests, allergies, immunizations, reminders and more. All information is password protected. An emergency icon on the front of the MediTrends App allows trained medical staff to view an individual's emergency information without logging in should an adverse event ever occur. This may one day save a life.
MediTrends promotes regularly scheduled Lab Testing to improve a user's statistical health database and empowers patients to track their own health, while working with their physician(s) to help keep them healthy before a problem occurs. DigiMed's approach is compliant with the proposed new rule by the U.S. Department of Health and Human Services (HHS), which would give patients direct access to their laboratory results.
DigiMed's founders have over 60 combined years of Global Positioning Satellite (GPS) experience, which was utilized to develop this App. DigiMed's founders have spent the first half of their career securing the nation's safety through the use of satellites; now it is time to turn their attention to the health of the nation and the world.
Learn more: http://digimedllc.com/
Available at the App Store: https://itunes.apple.com/us/app/meditrends/id538176866?mt=8