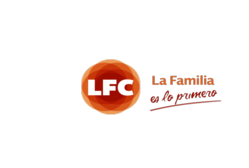 Miami, FL (PRWEB) March 21, 2013
The Inspiration Networks enters into an agreement with Imagina U.S. to re-launch Inspiration's 100% Spanish language U.S. Hispanic cable TV network – LFC La Familia. The announcement was made by Dale Ardizzone, Chief Operating Officer of The Inspiration Networks, and Juan Pablo Santos, Vice President, New Business Development at Imagina U.S.
"Since we launched La Familia in 2002, our goal has been to provide quality programming designed for the Hispanic families living in the U.S.," Ardizzone said. "We believe that this new relationship with Imagina strengthens LFC in every way.
"The mission of LFC La Familia is to bring positive, enriching, and wholesome entertainment that is appropriate for today's Hispanic families; and the re-launch includes a complete re-brand that introduces a fresh and original image that is honest, trustworthy, engaging, and evolving."
As part of this new deal, LFC La Familia's network operations, programming, marketing, and on-air promotions will be handled by Miami based Imagina U.S. A pioneer production company in the U.S. Hispanic television industry, Imagina U.S. has a proven track record of success in the development, operation, distribution, and management of TV channels, as well as producing top content for both the U.S. Hispanic and Latin American markets.
"We are very excited to bring LFC La Familia to the realm of U.S. Hispanic thematic channels that we currently manage and operate. We are convinced that LFC La Familia is the perfect channel to cater to U.S. Hispanic families. Reaching our audience effectively, improving channel performance, and nurturing our relationships with MSO's are the immediate goals that we have embraced and look forward to accomplish," said Santos.
Since its re-launch on December 10, 2012, the channel has shown outstanding results in terms of performance. Based on initial responses, audiences have been responding positively to the new programming introduced on LFC La Familia. Other key marquee programming includes the motivational program "Hola Maytte;" the healthy living show "La Vida Light" with Lucy Pereda; the family romantic comedy "Little Angels;" the classic story of "Aladdin" in a telenovela format; and "U Music HD," a music block with exclusive video premieres and concerts from Universal music.
Ardizzone said, "We are thrilled that LFC La Familia is off to such a strong start. As a part of Inspiration's family of networks, LFC's mantra to 'empower, entertain and unite Hispanic families,' is keeping in line with our corporate ethos. So with our flagship station, INSP, and now with LFC La Familia, our networks brand of family-friendly entertainment are impacting an unprecedented number of families across many cultures."
LFC La Familia can be seen on Comcast, Time Warner Cable, Cablevision, Verizon FiOS, AT&T U-Verse, Charter and others.
About LFC La Familia
LFC La Familia is a channel in Spanish for Hispanic families, which broadcasts 24 hours a day, 7 days a week. Our vision is to empower, entertain, and unite the Hispanic family through television. We understand that family comes first for Hispanics and want to become the new voice to hold the unit together with traditions, happiness, and the freedom that makes us unique. The channel is available in 1.8 million cable households throughout the U.S. on Comcast, Time Warner Cable, Cablevision, Verizon FiOS, AT&T U-Verse, Charter and others. http://www.lfclafamilia.com
About The Inspiration Networks
The Inspiration Networks is a family of cable and satellite-delivered networks available to more than 155 million households worldwide. The flagship network, INSP, reaches more than 73 million U.S. households with a classic line-up of family entertainment and ranks among the fastest-growing basic cable networks in America. To learn more, visit http://www.insp.com.
About Imagina U.S.
Imagina US is a company dedicated to the production of content and TV formats, development and distribution of thematic channels, and sports rights management, and technical services in the media and broadcast industry. http://www.imaginaus.com
Contact: Alexander Saenz
Imagina US
305-777-1900; alexander.saenz(at)imaginaus(dot)com
Tara Brown
The Inspiration Networks
803-448-2698; tara.brown(at)insp(dot)com