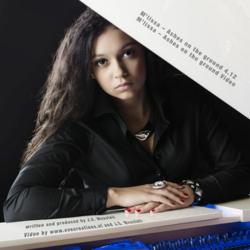 M'lissa has one of those unique voices you just don't find - J.S. Weastell
Eindhoven, Holland (PRWEB) March 23, 2013
While the young singer has had minor hits throughout Europe, "Ashes on the Ground", written and produced by J. S. Weastell, is getting major global interest.
Kyou records CEO, Jeff Zandvliet, said the music video started off slowly but then began to take off, getting more plays and comments and then finally he found his inbox overwhelmed.
"In the last month, alone, we've had countless producer requests from around the globe wanting to work with M'lissa and hundreds of artist collaboration requests. It's been a bit overwhelming."
Producer J.S. Weastell isn't surprised by her growing success. "M'lissa has one of those unique voices you just don't find. You can have great music, great lyrics, but if you're not working with a strong, unique voice it just doesn't come together. She is an original. I think she has a bright future."
M'lissa has more releases planned to build on her growing popularity and is currently working on a full-length album, but until then Zendvliet has been shocked by the response to "Ashes on The Ground."
"We felt it was a solid song. We're all proud of it, but we decided not to do a big marketing push and instead we hoped people would just find the song and that's what has happened. We're also very happy that the comments and emails have been from around the world. It proves once again that music is a universal language."
M'lissa simply said, "This song was very important and personal to me. I feel the words strongly and I hope it comes through in my voice. I'm very, very grateful for my new fans and I'm excited to continue making music. "
Kyou invites you to listen to the song, comment and share on YouTube -- Ashes on The Ground
"Ashes On The Ground" is currently available on Itunes and Whapp.