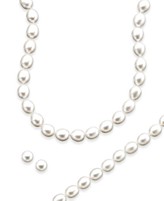 (PRWEB) March 21, 2013
The wholesale jewelry business market has been entered by New York wholesale business CloseoutExplosion.com. Donny Lowy, the CEO of Closeout Explosion has entered the lucrative jewelry category of the closeout business. His wholesale export business now offers brand name jewelry pallets at below closeout prices. While his business has traditionally focused on wholesale designer suits, dresses, children's clothing, and handbags, he is excited to offer this new overstock product line. The market for jewelry is quite large, especially in the foreign markets which Closeout Explosion supplies wholesale merchandise to Nigeria, Trinidad, and Dubai, among other countries. Among the brands that the New York closeout company carries is Lucky Brand, Jessica Simpson, Marc Jacobs, Monet, and Juicy Couture. By focusing on wholesaling brand name earrings, bracelets, necklaces, and pendants, resellers can benefit from having a competitive edge over their competitors, and by attracting customers due to the brand recognition that their merchandise has.
"In today's competitive retail environment a jewelry boutique needs to have every advantage at its disposal. For example, if a boutique in the Dunes Shopping mall in Abuja is competing with another jewelry reseller, it must be able to offer a compelling reason for shoppers to make their purchases inside its shop. By carrying branded items, the shop owner can draw in many more customers, especially now that many Nigerians travel abroad and surf the Internet which has enabled them to become very familiar with American and Western designers. By offering designer merchandise pallets my business can help retailers, whether they are located in the United States, Africa, Asia, the Caribbean, Latin America, and the Middle East, stand out in the marketplace and attract an audience of interested prospects," said Donny Lowy, who runs a network of wholesale websites including http://wholesalejewelrydeals.blogspot.com
"The advantage of purchasing closeouts versus merchandise directly from the brand is that the price if a closeout will usually be substantially lower than the latest current item, plus there is an opportunity to purchase a style of model number that is otherwise currently not available in the marketplace. It is for this reason that resellers including clothing store owners, flea market vendors, and eBay sellers have shown a strong inclination for buying overstock merchandise and high end store returns from my Brooklyn wholesale warehouse. These resellers are aware that they are competing with established online retailers such as Amazon and eBay, discount retailers such as Marshalls and Wal Mart, and department stores such as JC Penney and Nordstrom. Vendors can attract a loyal customer base by specializing in brand name closeouts since this category has name recognition and price savings as compared to other traditional retail venues," added Donny Lowy, who also exports work suits, office dresses, corporate shoes, and better wear. He has supplied a wide variety of outlets such as high end apparel in Greece and women's boutiques in Lebanon.
The warehouse is located in Greenpoint, Brooklyn, close to the New York Fashion District, and to three major international airports. In addition to utilizing the overstock website and visiting the New York showroom, prospective and current wholesale buyers can watch videos showcasing sample closeout product offerings through the Closeout Explosion Inc video channel.