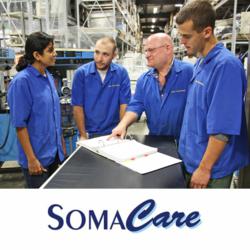 Bloomfield, CT (PRWEB) March 27, 2013
SOMACare, Soma Technology's service division, has just launched a new homepage to answer the need for service and maintenance of medical equipment in hospitals and surgery. As the economy slowly improves and the need to repair medical equipment remains more important than ever, SomaCare offers four different contract options: Electrical Safety Inspection, Preventive Maintenance Contract, Annual Service Contract, Comprehensive Service Contract, and a non-contract option based on labor time and material costs.
For more information about SomaCare and to compare the service contract options, call 1-800-GET-SOMA
OR visit Soma Technology's SomaCare website.
More About SomaCare
SomaCare service offers contract and non-contract equipment service for hospitals and surgical centers throughout the United States. Contracts cover everything from electrical safety inspections to comprehensive service contracts with scheduled preventative maintenance services. All contract options include free telephone support. Some additional benefits of SomaCare include a prized team of certified biomedical technicians and engineers; multi-modality capabilities including Biomedical, Imaging, and Sterilizers; depot and field service repair options; and both technical and cosmetic refurbishing capabilities. In the Northeast, Soma's team can keep care providers up and running with expert technicians capable of making repairs in the field. Beyond the Northeast, Soma maintains a field service network of biomedical technicians who can be called in to solve problems all over the United States.
One of the most popular features offered by SomaCare is that each contract can be customized to meet the specific needs of each medical facility.