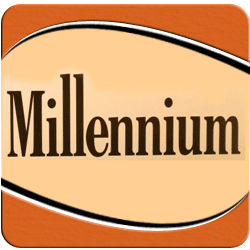 I think little cigars like this are an excellent value
(PRWEB) March 29, 2013
TrueTobacco.com, one of the Internet's most popular online tobacco distributors, announced today that it will be hosting a massive one-day sale on Millennium Little Cigars – a popular brand of lightly-flavored filtered cigars.
Millennium Little Cigars are a low-cost brand of filtered stogie that comes in a variety of flavors and styles. Packed with premium US-grown tobacco, Millenniums are a relatively recent addition to the growing filtered-cigar market. Many speculate that the extremely high-cost and questionable quality of other tobacco products has caused filtered cigars to drastically increase in popularity and has led to a surge in new "little cigar" products from a variety of manufacturers. Not only do most of these products provide a superior tobacco flavor to cigarettes, but many are available at a fraction of the cost.
Millenniums, are available in Peach, Vanilla, Strawberry and Wine flavors, as well as Regular, Light and Menthol styles.
According to Nick Gordon, the General Manager of TrueTobacco.com, this sale is a perfect example of why filtered little cigars are starting to edge out even the major cigarette brands. "I enjoy all kinds of tobacco," says Gordon. "But many forms of other tobacco have just become too expensive. When you can get a carton of filtered cigars made with pure tobacco for the price of two or three packs of cigarettes, you start to wonder if there's any real reason not to switch."
Like cigarettes, Millennium Little Cigars burn fast, eliminating the common complaint that cigars simply just take too long to smoke. Also, their taste is very mild compared to a full-sized stogie, and the available flavors add a nice dimension to the smoking experience.
"I think little cigars like this are an excellent value," says Gordon. "And when we're able to host sales like this, that value gets even stronger. We want all of our customers to have access to great products, not just those who can afford a pack of Dominicans every week. There's so many ways for everyone to enjoy tobacco."
TrueTobacco.com carries Millennium Little Cigars in cartons of 200. Regular, Menthol and Light styles are available, as well as Peach, Strawberry, Vanilla and Wine flavors. The sale will begin at midnight on February 14th and will end at midnight on February 16th, with cartons available for as low as $14.99.
About the Product:
Millennium Little Cigars are a relatively new brand of filtered cigars. They are available in a number of flavors and styles, and their extremely low cost and fast burning time makes them an excellent alternative to cigarettes.
About the Company:
TrueTobacco.com has used excellent service and excellent value to cement its reputation as one of the top tobacco distributors on the Internet. The company offers all manner of cigars, cigarillos and pipe tobacco, as well as a growing selection of tobacco accessories – from humidors and ashtrays to hygrometers and cigar cutters.