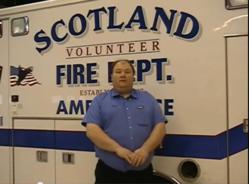 With the support of the Health Justice CT Challenge prize, we are excited to increase the number of first responders in Windham County
Hartford, CT (PRWEB) March 22, 2013
Health Justice CT -- an innovative movement designed to use social media as the foundation for raising awareness on the issue of racial and ethnic disparities in Connecticut -- today announced Eastern Connecticut Area Health Education Center (Eastern AHEC) "A First Response to Rural Health Disparities" as the winner of the second Health Justice CT Challenge.
A certified first responder is a person who has completed a course and received certification in providing pre-hospital care for medical emergencies. This program aims to address the shortage of first responders in Windham County, Connecticut. A First Response to Rural Health Disparities program will recruit high school students from Windham County to become certified EMTs or EMRs. Eastern AHEC will utilize its Youth Health Service Corps (YHSC) to implement the program. YHSC engages high school and middle school students with an interest in pursuing healthcare careers in meaningful service learning projects. To view the program proposal video, please visit: http://bit.ly/ZX6DQD.
"In a rural area it can take up to 45 minutes to respond to an emergency call, depending on the patient's location. With an increase of first responders in Windham County Connecticut, these costly delays can be avoided," said by Deputy Fire Chief Kyle Cimochowski of the Thompson Volunteer Fire Department
"With the support of the Health Justice CT Challenge prize, we are excited to increase the number of first responders in Windham County," added Maritza Bond, Eastern AHEC Executive Director.
The Health Justice CT Challenge is a competition for individuals and organizations to creatively share their ideas and program proposals to address health inequities in Connecticut. All proposals were assessed against a range of criteria including innovativeness, capacity to implement, and the ability to convey an effective video message.
The top five finalists in the Health Justice CT Challenge were selected by a panel of judges made up of six local and national health leaders. "We are delighted with the response of this challenge. Each project was inspiring and addressed important health disparities within the state," added Heang Tan, Health Justice CT Program Director.
About Health Justice CT:
Health Justice CT is an initiative designed to use social media as the foundation for creating a movement of Connecticut residents dedicated to working together to raise awareness about the issue of racial and ethnic disparities, find innovative solutions, and ultimately achieve health justice for everyone in Connecticut. The project is funded by the Connecticut Health Foundation (CT Health) and is being managed by the foundation's grantee, the Society for New Communications Research (sncr.org). To join the conversation, find us on Facebook (facebook.com/healthjusticect) and Twitter (twitter.com/healthjusticect)