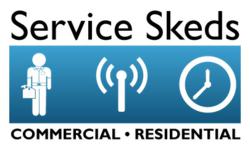 Our goal is to provide value to HVAC companies
North Richland Hills, TX (PRWEB) March 23, 2013
Service Skeds, the technology leader in field service management mobile software, enjoyed a successful showing at the 10th annual NCI Trade Show in Austin, TX from March 19 to March 21. Service Skeds, a company specializing in paperless field management for the HVAC industry, were on hand to display its software and reveal how easy the software has made it for companies to evolve into and surpass today's standard of business operations.
NCI (Natural Comfort Institute, Inc.) works to showcase the latest, innovative tools to improve the HVAC industry and educate the audience on what it calls "Performance-Based Contracting™." Their focus is on growth, profits, and company individualization. The NCI Summit also helps companies learn how to improve their business and honing their company's image in a way to maximize exposure and profit. "NCI has opened up more profit centers for my business than just about anything I've been a part of over the past 40 years," says Jim Altman, President of Four Seasons AC and Heating.
"The NCI Summit was a fantastic opportunity to showcase the benefits of the Service Skeds software to the attendees of the show," said Service Skeds president Stephen Chambers. "Our goal is to provide value to HVAC companies as well as make their business processes more efficient." One benefit of the Skeds software is that it keeps track of equipment history and documents customer service calls and purchases as well as keeping photos of customer jobs. The software also has accounting integration compatibilities so customers can continue to use familiar bookkeeping programs while remaining completely paperless. The Service Skeds smartphone app keeps technicians connected in the field with customer histories, instant dispatch communication, and voice-to-text documentation that make recording a job's details quick and easy.
This year's NCI Summit was in Austin, TX at the Doubletree Hilton Austin, March 17 to March 22. For more information about NCI and the event please visit http://www.nationalcomfortinstitute.com. To learn more about Service SKEDs and information about the benefits Skeds' field service management software provides can be found at http://www.skeds.com or contact Skeds at sales@skeds.com or call 657 444-SKED (7533).