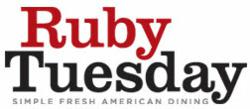 Enjoy a meal with Ruby Tuesday and they'll give back.
Merritt Island, FL (PRWEB) March 26, 2013
Ruby Tuesday is extremely proud to be a part of your hometown and believes in giving back. As a fellow member of the community, they invite the public to participate in Ruby Tuesday's Community Give Back Program.
Grab some friends and head to Ruby Tuesday at the 777 East Merritt Causeway location on April 2, 3, 4 and 6, 2013 to support the SPCA of North Brevard 4th Annual Happy Tails Dog Stroll-A-Thon! Print out the flyer at spcanorthbrevard.com and present to the server and Ruby Tuesday will give back 20% of the purchase to the SPCA. To make a reservation, call 321-453-6340.
About the SPCA:
The SPCA of North Brevard, Inc. is a private, non-profit organization with the mission of "protecting and providing a voice to the homeless animals of Brevard County." Founded in 1979 in Titusville, Florida, the SPCA is the largest private no-kill animal rescue group in Brevard, finding homes for more than 1,300 animals a year. It is the only adoption facility with free-roaming cat rooms in the County, allowing adopters to interact with cats in a more home-like setting. The SPCA of North Brevard Clinic also provides reduced-price vaccines to the public and has performed more than 50,000 low-cost spay/neuter surgeries since 1999.