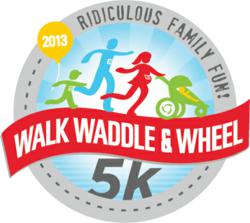 Tampa, Florida (PRWEB) March 22, 2013
CooperWynn Events is honored to announce their partnership with EverydayFamily.com to produce The Walk, Waddle & Wheel, a one of a kind Family Friendly 5K and Festival, throughout the nation. Walk, Waddle and Wheel will launch its first 2013 event at Spa Beach Park in St. Petersburg, FL, on May 11, 2013. Registration for the race is now open.
CooperWynn strives to create and produce events that offer everyone the ability to stay active and healthy in a creative way. The Walk, Waddle & Wheel does just that as it celebrates healthiness, happiness, family and wellness. This event will bring the community together to enjoy a ridiculously fun day, in which thousands of participants run a family friendly 5k, followed by a festival style party that includes live music, a kids zone, an adult obstacle course, a Quad Bungee, food and much, much more.
Walk, Waddle & Wheel will make 2013 a stellar year, launching 5 events with an estimated 30,000 total participants and an expectation to grow beyond that in the years to come.
"As Purveyors of Creactivity™, we are excited to partner with such an amazing family organization and help create a national event aimed at keeping families active and healthy" commented Stan Kozlowski, Race Director for Walk, Waddle and Wheel and owner of CooperWynn Events.
About The Walk, Waddle & Wheel
Walk, Waddle & Wheel stands for RIDICULOUS FAMILY FUN… Imagine a creative collision between a wild and crazy festival inspired event, anchored to a 5k road race. The race is followed by an after party with live entertainment, a kids zone, adult obstacle course, quad-bungee, great food and much, much more!
Walk, Waddle &Wheel is a 5K road race and INTERACTIVE HEALTH AND WELLNESS EVENT … and an innovative way to promote EF.com's commitment to a culture of wellness, community and giving back to the communities that support us. Walk, Waddle & Wheel will promote awareness of a variety of health topics, offer resources on health promotion and disease prevention, encourage community camaraderie and most importantly, send an important message to members that your company values their families health and giving back to the communities where they live, work and play.
About CooperWynn Events
CooperWynn Events is a turn-key event management company bolstered by a depth of knowledge in the hospitality, large event and investment banking fields. These synergistic backgrounds provide a unique and serious harmony of professional analysis, pre-planning, and execution of every one of our events. With a combined 15 years of experience, CooperWynn proudly puts its best foot forward for every single event, be it 100 people or 25,000. Named after the two kids that keep us running everyday; our company prides itself on razor sharp focus during the most hectic of times and an "all hands on deck" teamwork philosophy that supplies a constantly proactive approach. We work to identify our opportunities and challenges before they become our issues. Some events that highlight our experience include the 2002 Salt Lake City Olympics, Hunter's Runners Memorial 5K, Deer Valley Hike for Hunger, lululemon Park City events, and most recently, our founding partner spent a season in the operational trenches The Color Run™, the global fun run phenomenon. Our services include all facets of event management with a big dose of hospitality and business acumen; our skill sets resemble a team of happy overachievers that meticulously transform parks and streets into fantastic events and back again in awesome fashion. Essentially, we love what we do and our clients and staff see the value in our team-based approach, our enthusiastic mantra and our reliable, professional execution. That's CooperWynn....See you at the start AND finish!
About EverydayFamily.com
Tampa based EverydayFamily.com, the 25th fastest growing media company in the country, (EF) is a family driven website – in every sense – featuring a growing community of over three million members who share their everyday parenting experiences. EF is an online home and established resource for experts and parents who have advice and information to share, as well as those who are seeking guidance and support as they move through their family's journey, from preconception, to preschool, and beyond. EF invites everyone to get comfortable and share stories, thoughts, advice, and opinions with other families. The editors at EF, as well as the entire EF community, are dedicated to providing daily content for families seeking advice, information, and support… and to giving back to the communities supporting us.