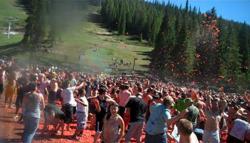 Meaningless Fun for Meaningful Causes.
Albuquerque, NM (PRWEB) March 30, 2013
The most famous food fight in the world is the inspiration for a unique fundraising tour that pulls into Albuquerque, New Mexico in May. The tour is based on La Tomatina, an annual festival in Bunol, Spain, where over 40 tons of crushed tomatoes are used as ammunition in a massive tomato fight. Tomato Assault brings this unique event to the University of New Mexico campus to achieve their goal of creating "Meaningless Fun for Meaningful Causes."
Tomato Assault will hold its event on May 25th from noon to 6 p.m. in the University Arena's east parking lot, located at 1 University Boulevard, Northeast Albuquerque, NM 87131. In addition to nearly 40,000 pounds of tomatoes, the event will feature live local music, a beer garden, inflatables and a costume contest. The tomato fight will begin approximately at 4 p.m. and last for about an hour, with organizers anticipating several thousand participants. A successful event will hopefully signal the beginning of an annual tradition in Albuquerque.
A Seattle based company, Tomato Assault was founded by Brian Hallberg and Michael Whitmarsh in 2012 with the intent of turning fun and frivolity into a vehicle for raising money for great causes. The Albuquerque event is one of eight tour stops across the country in 2013, with plans for an additional fifteen more locations in 2014. The tour runs from May to September, with at least $5 from each ticket sold going to the National Multiple Sclerosis Society. Setting a goal of being able to donate over $150,000 at the end of the summer, Tomato Assault will contribute an additional $5000 in the name of the city with the most participants.
The tomatoes that will be used in Tomato Assault's events will be surplus and inedible, with the timing of the late season tour stops largely dependent on the specific growing season.
Tickets will be available on the Tomato Assault website and also at the gate on the day of the event.