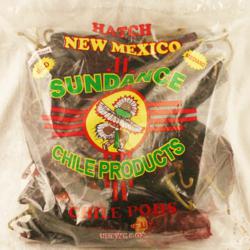 Our red chile is grown right here in Hatch
Hatch, NM (PRWEB) March 22, 2013
Young Guns Produce, Inc., one of the country's largest suppliers of Hatch green chile, has added dried red chile pods to its growing selection of products available through its online store.
"Our red chile is grown right here in Hatch," Chris Franzoy, President of Young Guns Produce, Inc. says, "so you know it has that authentic Southern New Mexico flavor that people love."
Red chile is typically left to ripen and dry in the fields while the green chile peppers are harvested. At a certain point the red chile is collected and then dried completely. The red chile pods are used to make the red chile sauces that are a staple of New Mexican cuisine.
Young Guns is currently selling two varieties online, hot and mild, in cases of 24-8 ounce bags.
"Both are great for making red chile sauce with," Franzoy adds, "and they are a real part of the southwest."
In addition, Young Guns Produce is also selling two foot red chile ristras through its online store.
Red chile ristras are traditional arrangements of hanging chile peppers originally created to dry bunches of the peppers and then used throughout the year to cook with.
These are decorative, two foot long ristras shipped in a special carton to avoid breakage.
"Our ristras make great gifts," says Franzoy, "and are something unique that we make here in Southern New Mexico."
About Young Guns Produce, Inc.
Young Guns Produce, Inc. is located in Hatch, New Mexico (also known as, "The Chile Capital of The World"). The corporation was established in February of 1992. The principal owners are Chris and Tammy Franzoy.
Young Guns Produce began its focus on marketing produce grown in Hatch, New Mexico with the idea of supporting the community and delivering great food to the consumer. Chris has always headed up the sales department, and has been at the desk for over 25 years.
The company has evolved into one of the largest suppliers of onions and fresh Hatch Green Chile, pumpkins, and New Mexico Pinto Beans in the Hatch Valley. The newest addition to our Hatch produce is our Frozen Hatch Green Chile.
For more information go online at http://www.younggunsproduce or call 1-575-267-3001.