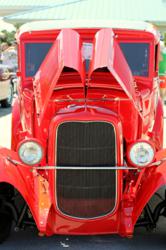 All of the proceeds from the show went to the Wounded Warrior Foundation, Donations amounted to $1000, Silver Palms RV Resort Matched that amount bringing the total raised to $2,000
Okeechobee, Florida (PRWEB) March 26, 2013
The First Annual Silver Palms Classic Car Show took place in Okeechobee, Florida at Silver Palms RV Resort, the Best Florida RV Resort, gathering more than 200 people from outside the property plus the resort guests; a great start for this new event.
Featuring 28 Vintage classic cars from 1900 to 1975, all the attendEes were given a ballot where they voted for their favorite vintage car, each of the age groups had a first and second place prize.
A good time was had by all on a beautiful sunny afternoon. Great friends, fantastic cars and good food combined to make this an excellent way to spend a Saturday afternoon.