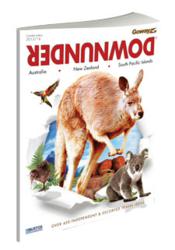 (PRWEB) March 25, 2013
Goway has announced the launch of the new 2013-14 Downunder brochure, North America's most comprehensive guide for Australia travel and the rest of Downunder (New Zealand and the Islands of the South Pacific).
The award winning brochure features every possible style of travel imaginable, from cruises and family vacations to Australia and New Zealand working holidays and VIP travel arrangements, and everything in between!
New for the 2013/2014 season:

Golfing ideas for Australia. Goway has partnered with Great Golf Courses of Australia to offer golf at top ranked Australian golf courses. There are 18 options in locations around Australia, 6 of these are ranked in the top 100 in the world.
A newly revamped and enhanced itinerary for the Waltzing Matilda HOLIDAY OF A LIFETIME small group escorted experience.
Fiji Long Stay! In addition to the existing long stay Snowbird vacations to Australia, New Zealand and the Cook Islands, is a brand new Fiji vacation option. Clients can spend a month at the 5 star Radisson Blu Denarau Island Resort in a fully self catering one bedroom suite for under $4500 (plus airfares).
Classic South Pacific and South America. A new 13 day itinerary incorporating Easter Island, Tahiti and New Zealand. This itinerary is aimed at the true Globetrotter looking for a unique and different idea.
Two new escorted vacations in New Zealand: the 21 day New Zealand Splendour and the 9 day Great Northerner. Both are Premier standard fully escorted motorcoach tours. Double Earlybird Booking Discounts are available for a limited time for these two great travel ideas.
More Self-drive itineraries (now 28) throughout Australia and New Zealand. These are operated by Goway's Sydney office, offering 24/7 support.
A wider range of campervans are now available with Britz and Maui for self-drive travelers. Plus the unique 'Spaceship' for adventurous Australia and New Zealand travel experiences.
Touring options to Hobbiton, one of the locations used during the filming of Lord of the Rings and the Hobbit in New Zealand.
Great new tours of Australia include Southern walking tours in Adelaide, plus a fantastic Dolphin Cruise and Swim half day trip.
Small group eco touring to the Great Ocean Road incorporating wildlife walks, bed and breakfast style accommodation and spectacular scenery.
For the truly independent traveler, Goway's 132-page Downunder brochure offers over 450 travel ideas. From expedition cruising along Australia's Great Barrier Reef to exploring New Zealand's National Parks, and cultural tours to exploring the wine regions, the brochure has ideas to inspire travellers of all styles.
Goway specializes in travel packages for independent and group travel. Since 1970, Goway has provided custom itineraries to some of the world's most exotic and interesting destinations. Goway's destinations include Australia and the South Pacific, Africa and the Middle East, Latin America and Antarctica, Asia and idyllic tropical islands. For a free trip quote, visit http://www.goway.com/forms/quote_request.