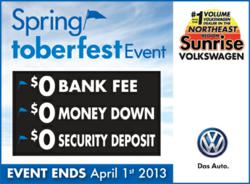 LYNBROOK, NY (PRWEB) March 23, 2013
Sunrise Volkswagen values itself on offering the best deals in the area as well as amazing customer service that keeps customers coming back. The dealership, located at 931 Sunrise Highway in Lynbrook, New York, recently became the #1 Volume dealer in New York as well as the #1 Volume Volkswagen dealer in the Northeast. Visiting the #1 Volume VW dealer in the Northeast offers benefits such as:
5 Million dollars in lending power available for all credit situations
Over 600 new Volkswagens on hand and ready for immediate delivery
No Money Down, No First Payment, No Security Deposit and No Bank Fees
Multiple vehicle protection plans to suit your needs
Every new Sunrise Volkswagen is delivered with a full tank of fuel
Sunrise is fully stocked with a wide selection of models, colors and options. Sunrise Volkswagen's staff takes pride in working hard to create deals that offer their customers the best Volkswagen for the best value. And this spring, anything is possible!
Due to the unprecedented demand for fast and affordable automobile financing and leasing they have offered their "Springtoberfest Event" that offers four amazing Volkswagen automobiles for lease under $200 a month. Be sure not to miss out on this amazing deal which ends on April 1, 2013. The automobiles included are:
2013 Volkswagen Jetta 2.0L S lease for $159 per month for 36 months
2013 Volkswagen Passat 2.5L S lease for $199 per month for 36 months
2013 Volkswagen Tiguan 2.0T S lease for $199 per month for 36 months
2013 Volkswagen Beetle 2.5L lease for $199 per month for 36 months
In addition, Sunrise Volkswagen is also offering many other amazing deals:
Don't miss out on the owner loyalty bonus of up to $1,000. Current Volkswagen owners will receive a special bonus off the purchase or lease of a brand new VW model until April 30, 2013.
Ready to trade in your vehicle for something new? Sunrise Volkswagen wants your old vehicle and will offer up to 120% of Kelley Blue Book Value for your trade.
Recent college graduates are always in need of a dependable automobile. That's why they're willing to offer them a special deal which will make their first payment (up to $800), give them amazing rates even if they don't have a credit history, and no co-signer is required.
Don't miss out on Sunrise Volkswagen's amazing deals while they last. Visit them online at http://www.sunrisevolkswagen.com for full details on all their current deals and to contact them about the vehicle that will suit your needs.
About the Number One Volume Dealer in the Northeast
Established in 2005, Sunrise VW is the leading Volkswagen dealership in the Northeast. Conveniently located on the Sunrise Highway in Lynbrook New York, Sunrise VW has been recognized as the number one volume new and certified pre-owned Volkswagen dealer in the state. The dealership's recently renovated state-of-the-art facility boasts a 3,000 square ft. showroom with the capacity to display up to 14 vehicles. Sunrise understands the importance of offering a full selection of new & used Volkswagen models and offers many promotions at affordable prices.