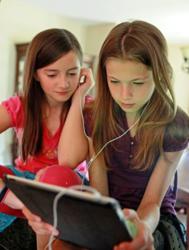 When you see this kind of proficiency, it suggests that students are achieving to the level they need for life, and that teachers and schools are meeting their mission.
Princeton, NJ (PRWEB) March 22, 2013
Students with print disabilities who have access to audiobooks significantly outperform their peers in math tests, according to a recent study conducted by the national nonprofit Learning Ally, the nation's leading provider of accessible audiobook learning resources for students with disabilities such as dyslexia and visual impairment. The study reinforces the organization's recent findings that audiobook resources bolster student performance in reading.
Focusing on 2010 and 2011 AYP (Adequate Yearly Progress data, a publicly available measure of year-to-year achievement on statewide assessment tests), Learning Ally's study captured results for students with Individual Education Plans (IEPs) that are designed to meet the needs of a child with a disability. By comparing statewide assessment math test scores among students with disabilities, the study calculated scores for every school in several states to understand how they compared to the overall state average. Its findings highlighted that schools which actively adopt Learning Ally services clearly outperform others in state assessments of math proficiency among students with IEPs.
In 13 out of 13 comparisons across six states in 2010, and 12 out of 13 comparisons across six states in 2011, schools using Learning Ally had more students who scored as 'Proficient' or 'Advanced Proficient' in math and sciences. "These studies indicate that students in Learning Ally schools have an extra advantage," said Paul Edelblut, Learning Ally's VP of Programs and Services. "When you see that kind of math proficiency in 25 out of 26 cases, combined with our earlier findings of elevated reading scores in 22 out of 24 cases, it suggests that students are achieving to the level they need for life, and it shows that teachers and schools are meeting their mission.
"Results like these support the principles of Universal Design for Learning," added Edelblut, "and validate that providing content in multiple means makes it accessible for all students, truly leveling the playing field. We know that students with a print disability don't only struggle in English class, so seeing such powerful results in Math validates the power of audiobook content as an accommodation – particularly as we move towards the robust requirements for reading included in Common Core standards for math."
Edelblut pointed out that the results also lend credence to research on audiobook accommodations conducted by Johns Hopkins and Rutgers University. "While we'll continue to watch and analyze test results, it is clear that schools actively using Learning Ally services outperform others in both math and AYP Reading results for students with an IEP. This supports our long-held position that audiobooks are a powerful enabler for students with learning and visual disabilities."
Educators and professionals interested in obtaining a full version of the study are invited to contact Paul Edelblut at pEdelblut@LearningAlly.org.
About Learning Ally™
Founded in 1948 as Recording for the Blind, Learning Ally serves over 300,000 K-12, college and graduate students, as well as veterans and lifelong learners – all of whom cannot read standard print due to blindness, visual impairment, dyslexia, or other learning and physical disabilities. Learning Ally's collection of more than 75,000 digitally recorded human-read textbooks and literature titles – featuring a heavy emphasis on STEM resources – is delivered through internet downloads, assistive technology devices, and mainstream devices like iPhone and iPad, and is the largest of its kind in the world. Thousands of volunteers across the U.S. help to record and process the educational materials, which students rely on to achieve academic and professional success. Learning Ally, a 501(c)3 nonprofit, is partially funded by grants from state and local education programs, and the generous contributions of individuals, foundations and corporations. For more information, visit http://www.LearningAlly.org.