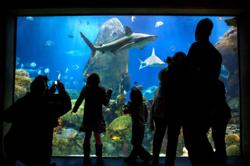 "The Aquarium's success and Chattanooga's prosperity go hand-in-hand" - Charlie Arant, Tennessee Aquarium president and CEO
Chattanooga, Tennessee (PRWEB) March 22, 2013
Tennessee Aquarium Expects 20 Millionth Visitor This Weekend: Special Discounts Offered To Celebrate A Tourism Milestone
A spring outing is about to become very memorable for someone as the Tennessee Aquarium prepares to welcome its 20 millionth visitor on Sunday, March 24th. To celebrate the occasion, a gift package is being prepared for the lucky guest, including a one-year Aquarium membership, passes for the IMAX 3D Theater and River Gorge Explorer, a behind the scenes tour and a Chattanooga VIP Pass to other area attractions.
This milestone is extra-special for a mid-sized city that dreamed big 20 years ago and pulled together to build the world's largest freshwater aquarium on the banks of the Tennessee River. Drawing 20 million people to downtown Chattanooga underscores how that initial investment continues paying dividends. A recent independent study found that the Aquarium's direct economic impact on the Scenic-City is more than $77.4 million dollars each year. That figure only grows as more visitors are drawn to the non-profit institution.
"The Aquarium's success and Chattanooga's prosperity go hand-in-hand," said Charlie Arant, the Aquarium's president and CEO. "Admissions allow us to provide a top-rated visitor experience that draws people to the city. And, thanks to ongoing community support, we're able to keep creating new and exciting exhibits and expand our education and conservation programs in the region."
To show appreciation for the long-standing support, the Aquarium will offer all visitors special discounts on "20 Million Day." Adult Aquarium tickets, and Adult tickets for the River Gorge Explorer, will be $20.00 on Sunday. Visitors will also save when they choose to add IMAX tickets for $5.00 each. (Two adults could save $20 when purchasing combination tickets for all three attractions.)
The Aquarium also plans to kick off the next wave of visitors with a Chattanooga getaway contest. Anyone can go to the Aquarium's Facebook page and register to win the "Big Tanks Sweepstakes." The winner, chosen at random from online entries, will win a one-year family membership, tickets for the River Gorge Explorer and IMAX, two-night hotel stay in Chattanooga and a Chattanooga VIP pass to other area attractions. Entries will be accepted through Thursday,March 28th. The winner will be posted on the Aquarium's Facebook page the following day.
Contact: Thom Benson 423-785-3007
###
The Tennessee Aquarium inspires wonder, appreciation and protection of water and all life that it sustains. Admission is $24.95 per adult and $14.95 per child, ages 3-12. Each ticket purchased helps support Aquarium conservation programs. The IMAX® 3D Theater is next door to the Aquarium. Ticket prices are $9.95 per adult and $8.50 per child. Aquarium/IMAX combo tickets are $30.95 for adults and $20.95 for children. Excursions aboard the new River Gorge Explorer depart daily into "Tennessee's Grand Canyon." Cruise tickets are $29.00 per adult and $21.50 per child (3-12). Advance tickets may be purchased online at http://www.tnaqua.org or by phone at 1-800-262-0695. The Aquarium, located on the banks of the Tennessee River in Chattanooga, is a non-profit organization. Open every day except Thanksgiving and Christmas, the Aquarium and IMAX are accessible to people with disabilities.
Attached photo: The Tennessee Aquarium will celebrate its 20 millionth visitor this weekend. Photo: John Bamber