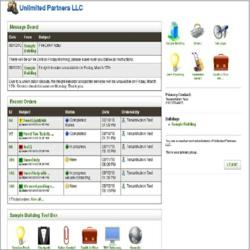 Shortpath Facility...well designed portal that provides the information and opportunity to manage...services
New York, NY (PRWEB) March 25, 2013
Building Intelligence Inc. acquires Shortpath Facility Software to add to its SV3 security platform. Currently used by 1000s of customers, Shortpath Facility provides Building Intelligence with a complete tenant request system, conference room scheduling and vendor marketplace.
Along with the patents, trademarks and contracts, the acquisition of the Shortpath product line provides Building Intelligence customers with the ability to generate work-orders, schedule visitors and provision services. For building owners and facility operators, sending notifications, generating a trusted vendor program and managing COIs all takes place on a single cloud-based platform. The Shortpath Facility Product is also included on Building Intelligence's GSA Schedule GS-35F-065AA.
"Our SV3 product-line substantially improves security and operations, it provides an opportunity for landlords to be rewarded by enhancing security and establishing new services and revenue," says CEO Jeffrey Friedman. "Combine that premise with Shortpath Facility's ability to engage customers in a well designed portal that provides the users with the information and opportunity to manage their own services, their vendors and their building; everyone wins.
Security is a shared responsibility, and Shortpath it a terrific means of sharing. Providing efficient easy-to-use empowering applications has been at the core of our SV3 technology and Shortpath Facility continues this tradition." Mr. Friedman will be speaking at the ISC West Conference regarding Vehicle Security on April 10, 2013 at the Sands Convention Center in Las Vegas Nevada. Building Intelligence Inc. will also be showing the complete product line at (Booth# 19146) ISC West.
The purchase of the Shortpath Facility software included the Trademark, "Easier Done Than Said" and several patents relating to the management of vendors on a building portal. "There is a convergence going on in the security industry bringing together both facility and security operations, " says Chief Marketing Officer Laurie Aaron "Facility managers, security professionals and guard companies are working together and trying to find new ways to co-ordinate ultimately providing improved services to their customers. The combination of Shortpath Facility and Building Intelligence SV3 makes perfect sense. We have made our mark of demonstrating this system in all types of facilities; and with the combination of these two very important aspects of security and operations; it's a homerun for building managers and security teams."
Building Intelligence offers their cloud-based solution called SV3 to create an auditable and secure environment promoting the pre-registration and correlation of all visitors, vendors and vehicles. This cost effective cloud service provides the tools to implement the customer's rules with regards to vetting, scheduling, billing and processing vendors through the front and especially through the back door. SV3 is a platform by which a building owner or a corporate enterprise can develop a "trusted vendor program". By configuring processes and workflows that promote the vetting and pre-registration of visitors, vehicles, drivers and vendor companies, it creates a significant deterrence to terrorism, theft and abuse by vendors who otherwise could not be held accountable.
In addition to deterrence, SV3 can be used to develop loading dock and elevator usage reports for billing accuracy to multiple stake holders and tenants. SV3 provides indisputable documentation in connection to damaged property and the responsible parties. There are many risks lurking at the back door ranging from truck bombs, to expired certificates of insurance – Building Intelligence is the leading provider of cloud services and enterprise solutions to addresses these risks and more. By adding the platform of Shortpath Facility, Building Intelligence, as a combined platform of applications covers notifications, scheduling, vendor management, visitor management, vehicle security and all types of tracking and reporting.
Shortpath Facility is now a division of Building Intelligence Inc. Request a demo of Shortpath Facility at http://www.shortpath.com.
Building Intelligence, Inc is a New York based information technology and security services provider. The company provides a suite of facility and security cloud-based solutions for managing facilities in many different industries. Scalable to industries such as commercial, residential, government, hospitality, healthcare, stadiums, and performance centers, our cloud-based portal, vehicle security, visitor security and vendor solution is customized to fit the needs of the buildings, the tenants and the security companies that service those facilities All of our systems provide streamlined operations, logistics and analysis, and comprehensive security protocols that provide people, property and business with an ideal combination of services. Visit us online at http://www.buildingintelligence.com.