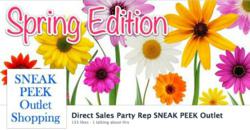 FindSalesRep.com has gathering some of the most sought after products, deals and top personal shoppers in the Sneak Peek Outlet
Phoenix, AZ (PRWEB) March 29, 2013
This Spring, FindSalesRep is reaching out to Direct Sales Reps form every company to offer something totally new in the Network Marketing Industry. They have just announced on their blog and on facebook that shopping is now open in the Direct Sales Sneak Peek Outlet - Spring Edition at NetworkMarketingDistributor.com. It's a place online where shoppers looking for help, the most popular direct sales products, and the lowest prices can find exactly what they are looking for. "Shoppers will find motivated and qualified direct sales consultants who are more than happy to help. These reps are professional independent consultants who can help you find exactly the right products and opportunities at the best possible price." says, Gabby Gmyrek the creator of the Sneak Peek Outlet. "No where else online off are so many Direct Sales Representatives gathered with so much to offer."
And the representatives love it! Sometimes in direct sales, independent consultants feel like they're begging for people to listen to them. In the new Sneak Peek Outlet, created by FindSalesRep are being blown away as customers seek them out for advice and for the "easy way" to learn more and buy popular direct sales products. .
Currently, FindSalesRep is focusing on Spring, because Spring is when many direct sales companies offer new products, new catalogues and new ways to save . "That's what we want to highlight in the Sneak Peek Outlet from now until later this Spring. We want reps to have a chance to share new updates and offers from their company as they are released." says Gabby "It's a one stop shopping experience that simplifies the whole process! Reps get found and people find the products they are searching for. Together, we are helping everyone have the perfect shopping experience. " adds Gabby.
Direct sales party consultants who want to get listed in the Sneak Peek Outlet can visit FindSalesRep.com and request more information. FindSalesRep will be adding it's Sneak Peek Outlet throughout Spring, so respond whenever you want to get listed in the Outlet and get found.
Anyone who is looking for Direct Sales Products, coupons or catalogues will now only need to go to one place. As reported on their blog, FindSalesRep.com has been gathering some of the most sought after products, deals and top personal shoppers in the Sneak Peek Outlet. This new, interactive resource is where anyone can find product and company recommendations, as well as ask questions. FindSalesRep recommends, if you're on Facebook, connect with the reps at the Direct Sales Party Rep Sneak Peek Outlet - Spring Edition.
Here's a preview of some of the products and Party Reps you'll find in the FindSalesRep.com Spring Edition of the Sneak Peek Outlet:
Category: Jewelry Under $50
Consultant Profile:  Deborah Weiner Napoleon
Debie is a Fashion Consultant with Cookie Lee Jewelry! This is the jewelry you want to wear to stay on-trend and not break your budget. It's bling on a budget, plus cute teen jewelry.
Category: Health and Fitness
Consultant Profile: Terri Wood
Terri shares It Works Global. Have you tried that crazy wrap thing yet? The Ultimate Body Applicator tones, tightens and firms the skin and side effects include inches lost!
Category: Kitchen Essentials
Consultant Profile: Ashley Pyrc
Ashley is a consultant for The Pampered Chef, an amazing company that sells kitchen products and tons of different collections. Pampered Chef Stoneware is extremely popular and so is lifetime guarantee on cookware and knives. 
This is only a small sample of the categories, personal attention and and recommendations available. Check out the "The Sneak Peek Outlet Spring Edition" at http://www.NetworkMarketingDistributor.com to connect with more great direct sales consultants.
About FindSalesRep.com
FindSalesRep.com, the original online resource for finding representatives from any Network Marketing company, has been connecting people with Direct Sales and Network Marketing consultants since 2010. Learn more here.